Tyler Avila '18
06/06/2018
On air with Bluffton University senior Ty Avila
BLUFFTON, Ohio – Ask senior Ty Avila, Lakeview, Ohio, his plans for the future, and he'll tell you, "I have big dreams." The broadcasting and journalism major is already making those dreams a reality through a summer job at WPKO in Bellefontaine, Ohio. Avila is a news reporter for the radio station and has covered events such as graduations and high school signing days.
"I'm now a professional in a news organization," said Avila. "I haven't quite grasped that yet, but I'm doing it. I'm using all of the lessons from my journalism classes, and this experience is showing me that the hard work that I've put in at Bluffton is paying off, and it's really exciting."
Avila will soon serve as the news anchor and reporter for WPKO's sister station, 106.9 The Bull, which is currently operating as a music-only station.
"I will be responsible for the evening newscast at 6 p.m.," said Avila. "I'll cover stories during the day and put them together for the evening news."
Avila credits Bluffton's Marathana Prothro, assistant professor of communication, and Dave Woodward, digital platform engineer, with helping him succeed.
In Prothro's convergent media classes, he's learned about having a beat, making connections with the community and producing stories for the radio.
"Once I completed the second convergent media practicum, I realized that radio was what I wanted to do. I fell in love with radio."
Woodward, who is also a program director and on-air personality for Childers Media Group in Lima, has shared words of encouragement with Avila alongside practical radio knowledge.
"He's encouraged me to keep doing what I'm doing and getting better," said Avila. "With their help, I think I've found my calling."
At Bluffton, Avila has served as a play-by-play commentator for athletics on 96.1 The Wit and co-hosted a sports talk show called "The Beaver Dam." Starting this summer, he's also serving as the campus radio station's program director.
"I don't even call it a job. I get to have fun and talk about Bluffton athletics. I get to share about all of the records that are being broken on campus," said Avila, who explained that it brings him joy to give people information. "If you don't know what's happening on campus, I'm going to tell you."
Avila chose Bluffton after comparing the program to one at a larger state school. "I liked the idea of having smaller class sizes and forming one-on-one relationships with professors rather than being just a number in the classroom," he explained.
However, he's also carrying on the family tradition.
"My dad graduated from Bluffton College, so sharing the experience with him, that's been really cool," said Avila. Thomas "Jesse" Avila graduated in 1994 with a bachelor's degree in art and in 2011 with a Master of Art in Education.
With just one summer and one semester of classes left, Avila is focused on growth. "I'm honing my craft and how I present myself on air. It's great being the voice of the news."
-B-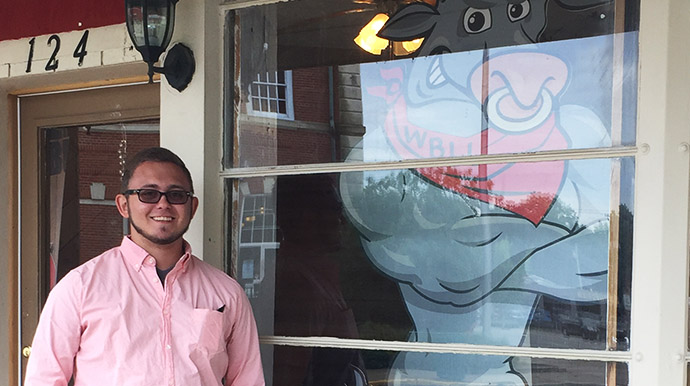 "Once I completed the second convergent media practicum, I realized that radio was what I wanted to do. I fell in love with radio."