Senior shapes future
04/07/2020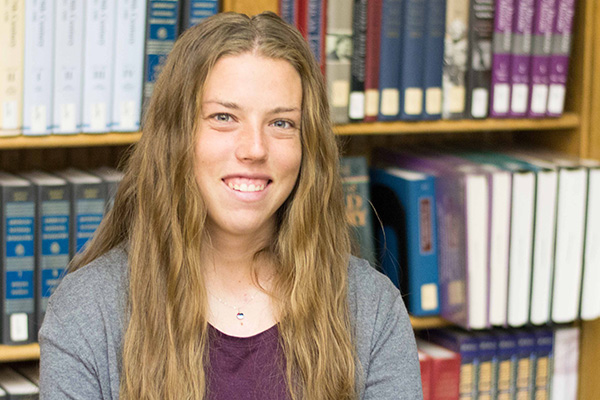 Future shaped by family, summer job
Senior Aubrey Bartel squeezed every experience possible out of her four years at Bluffton University. After graduation, the Newton, Kan., native plans to return to Kansas and spend the next three years at University of Kansas earning her Doctor of Physical Therapy degree.
Bartel has wanted to be a physical therapist since she was in fifth grade. Her older sister has severe autism, so she grew up watching her sister interact with different specialists and was drawn to being able to impact someone else's life the way they impacted her sister's.
She originally wanted to work with athletes, but after working for Camp SSTAR last summer, her aspirations changed. Camp SSTAR is a summer program through Heartspring, a facility in Wichita, Kan., that provides services and therapies for children with special needs.
The purpose of the camp is to help the kids go from a special education classroom to a regular education classroom in the school year, or to provide a routine for those who are already in a regular education classroom so they are able to transition back smoothly in the fall.
"This experience showed me how the simple act of being there for someone consistently, and creating a positive environment, can strongly impact their life," explained Bartel. "I've wanted to be a physical therapist for as long as I can remember, and more recently have become interested in pediatric physical therapy. It's also helped me discover that working with children with special needs is something that I'm passionate about."
While graduate school may only be 3 hours from her hometown, Bartel says she will be pushed out of her comfort zone. She credits Bluffton for preparing her for this next experience.
"Going to Bluffton was terrifying for me at first because I didn't know anyone, but it ended up being the perfect place for me. I think it showed me how much I can grow and enjoy different things by just trying them, even if it's uncomfortable and scary."
The double major in pre-physical therapy and exercise science also was a member of the women's soccer team, a student in Bluffton's Honors Program, and worked multiple campus jobs – all while maintaining a 3.9 GPA.
"I've done a lot at Bluffton, but my favorite experience was being on the soccer team," said Bartel. "I think that helped me grow as a person, and it helped me make a lot of friends throughout the four years. I can't imagine my Bluffton experience without it."
Not many students would pack up their lives and move 13 hours from home, but Bartel knew she didn't want to attend a college close to home.
"I knew I wanted to go to a smaller school. When I visited Bluffton, I could immediately see it being my second home. Everyone was so nice, it seemed like the perfect place to spend the next four years," said Bartel.
Although Bluffton eventually became her home-away-from-home, Bartel admits the transition wasn't easy. But, by the end of her freshman year, she felt she found another family at Bluffton.
"After my freshman year, I didn't even really even think about how far away from home I was," said Bartel. "The professors are always there if you need something, and being on the soccer team helped a lot."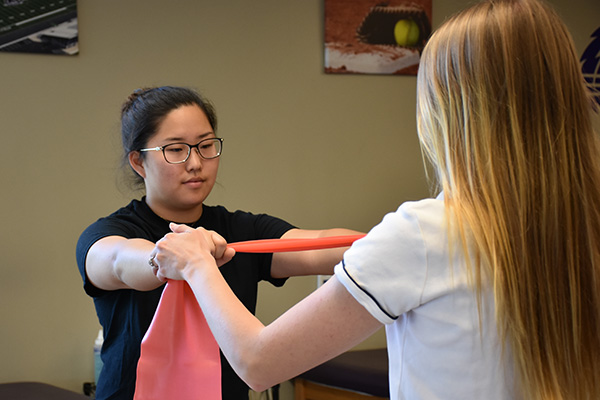 ---
Bluffton's program prepares you for the post-graduate study required to be licensed as a physical therapist.