Dream internship
12/22/2021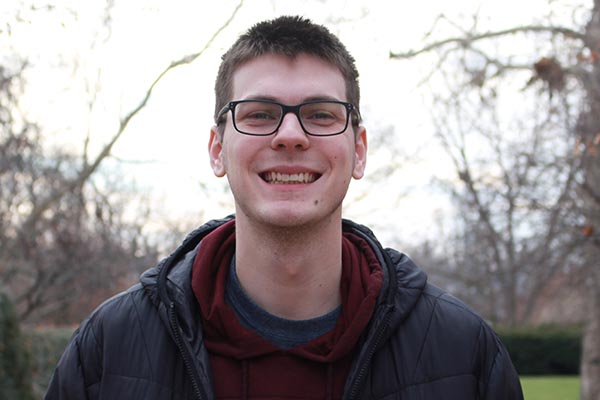 Bluffton junior interned at Marathon
Riley Larcom '23, a double major in accounting and business administration, is also doubling up on internship experiences. A commuter student from Pandora, Ohio, Larcom completed an internship during the summer of 2021 at Marathon Petroleum in Findlay, Ohio. It was the second internship of his college career.
"Coming to Bluffton, I knew my end goal was to work at Marathon," said Larcom.
With his future plans determined, Larcom worked with Dr. Jason Swartzlander, professor of accounting, to make his dream a reality. Swartzlander routinely helps students identify internships, polish their resumes and practice interview questions. As a first-year student, he applied for an internship at Marathon. However, the internships are sought after and were already filled for the year. So instead, he gained knowledge through an accounting internship at Mennonite Memorial Home in Bluffton, before securing a spot at Marathon on his next try.
"I feel like it really opened up my vision of what an internship is and how helpful they are," said Larcom about his experience at Mennonite Memorial Home. "It's really huge to have internship experience on your resume, and the people I worked with genuinely wanted to help me learn."
From May to August, Larcom worked at Marathon in the accounting and operations fields following the movements of petroleum gas. Basically, Larcom tracked accounts for inventory as it moved from point A to point B.
The internship experiences were vital to Larcom, who explained they help students take what they learn in the classroom and apply it to real life situations.
"It's crazy to think about the amount of things you learn on the job," said Larcom.
His two major takeaways from the experience were learning the software the businesses use and developing professional, interpersonal communication skills.
"It is a very professional company but at the same time the people were laid back," said Larcom. "They were super nice and knew that you're there as an intern ready to learn."
Growing up near Bluffton, Larcom already had existing connections with faculty and staff. Those connections influenced his college plans.
"I live close so I have always been in the community," said Larcom. "That is what swayed me to come to Bluffton."
At Bluffton, Larcom is a member of the Student Investment Club and works as an assistant for the volleyball team.