Determined
12/12/2018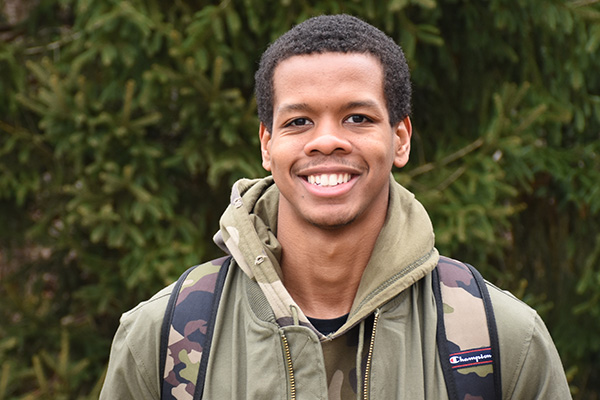 Transfer student, athlete and RA, will also graduate early
To say Michael Pickel, a senior from Dayton, Ohio, is busy is an understatement. He designed his own major, works as a resident advisor, mentors for Project HOME, plays basketball and tutors with Bluffton University's Learning Resource Center. Not only is his schedule packed, but he's also a transfer student and is graduating early.
Pickel attended a larger university for a year before transferring to Bluffton University.
Transfer student
"Bluffton was my top choice, but I second-guessed myself and went to a different school. When I came back here, I was like yeah, it still feels right."
In transferring, Pickel's biggest concern was that his classes would transfer seamlessly—especially classes he had taken in high school for college credit.
"I spent so much time in high school working hard and staying up late for those classes," said Pickel, who worked closely with Bluffton's registrar's office to ensure he will graduate in three years.
Another obstacle, Bluffton originally didn't have a pre-physical therapy major— Pickel's academic program of choice. So he researched programs with Iris Neufeld, registrar, and created a self-designed pre-physical therapy major.
Seeing the demand for the field, Bluffton quickly adopted a pre-physical therapy major and incoming students can now declare it as their field of study.
At times, the rigor of the program has been a challenge. For example, some labs overlap with basketball practice.
"Coach Neal understands," said Pickel. "It's difficult but it's worth it."
On the court, Pickel feels right at home with his teammates. "It's been a good experience being part of the basketball team and having people you can always go to and have friendships with."
Off the court, he serves as a mentor for Project HOME, the Multicultural Student Organization's mentorship program. His connection with his mentee, AJ Johnson, is strong since they are teammates who have the same career goal. Johnson is a pre-physical therapy major.
In the classroom, Pickel developed interests in some unexpected areas. His nutrition class with Jeanna Haggard, assistant professor of food and nutrition, was "really interesting and so much more than I expected."
And his Issues in Modern America class with Dr. Perry Bush, professor of history, provided new perspectives and "real conversations."
"It was one of those classes where I didn't know what it was going to be about, but we have to take it," said Pickel. "And then I learned way more than I expected. I love classes like that."
While at Bluffton for just two years, Pickel is getting the most out of his Bluffton experience. He plans to graduate in May and is currently applying to graduate schools in pursuit of a career in physical therapy.