BAS mentor
12/09/2020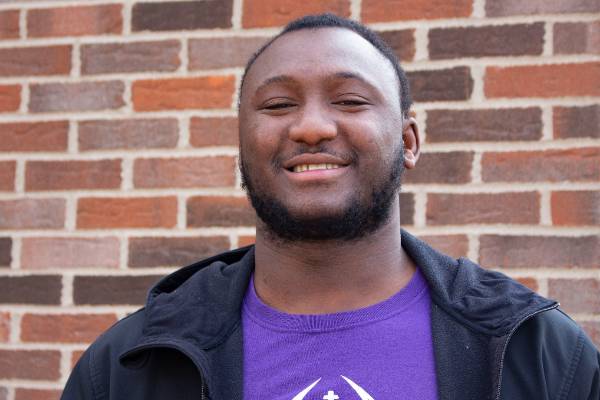 Communication major helps first-year students adapt to college
When Travon Mason '23, a communication major from Erlanger, Ky., first came to Bluffton University, he had no idea what he wanted to study. Then, he had a conversation with Marathana Prothro, assistant professor of communication, who picked up on some of his natural abilities.
"Marathana told me to try communication. I do like to talk a lot," joked Mason. "So, I tried it out and decided to continue with the major."
Now, he considers Prothro to be an academic mentor.
"She helps you understand the concepts in ways where you can figure it out on your own and she's not just giving you the answers."
Later, through the advice of Dr. Melissa Friesen, professor of theatre and communication, Mason added a theatre minor. His favorite class from the fall 2021 semester was Friesen's Performance Studies course, where he learned to perform poetry and personal narratives.
"With theatre, I just wanted to try something different, and once I started, I realized this is actually fun," said Mason. "It allows me to express myself in different ways."
As a second-year student, Mason is far from determining his career ambitions or professional goals. In the meantime, he's helping first-year students find their footing in college as a mentor for Carrie Mast's Becoming a Scholar class. Part of the Bluffton Blueprint, the general education course prepares students for college-level learning. Each section is assigned both a professor and a student mentor.
"I loved my BAS class last year," said Mason. "Being a mentor, I help the new students, answer questions about assignments and provide a feel for what college is like. I let them know they can text me or call me, and I'll be there for them."
For Mason, he's passing on the same welcoming spirit he was shown during his initial visit as a football recruit.
"I liked the atmosphere here. Everyone was friendly," said Mason. "Everyone really helped me get a better understanding of what Bluffton was all about."
While Mason admits the fall semester was challenging due to COVID-19 precautions, he's grateful to be in person and practicing with his team.
"It's been hard, but it's been worth it," said Mason. "It was definitely a plus that we got to play when most other college athletes didn't have that opportunity at all."
Now, Mason has some words of advice for prospective Bluffton students.
"There are helpful people at Bluffton. Even if you're down, they're here to help no matter what," explained Mason. "If you need to talk to someone, you can always talk to one of your professors."