Storyteller
12/07/2020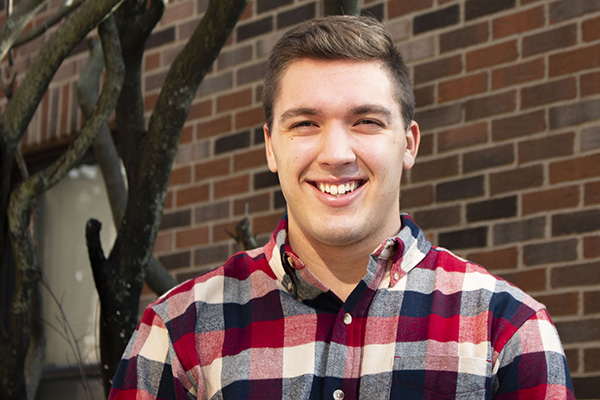 Senior highlights the past with stories
When James Grandey, head baseball coach, first reached out to Lenny Winiarski '21, a history major from Cincinnati, Ohio, Winiarski had never heard of Bluffton University. But he was visiting a few other colleges along Interstate 75 and decided to add Bluffton to the list.
"My mom, dad and I came up the night before, and we were staying at a hotel so we just decided to drive through campus," said Winiarski. "I was like wow. I had never heard of this place before, but it was fall and campus was beautiful."
After meeting with Grandey, the choice for Winiarski was easy. Now in his final year at Bluffton, the first baseman, hall director and honors student is completing a departmental honors project on the experience of German immigrants in his hometown during WWI.
"In my room at home, I have a whole shelf of history books. It's part of my personality, and I thrive off of storytelling. History is an avenue for me to spread what I enjoy to other people through stories."
Winiarski plans to spend much of winter break working on his honors project. He was inspired to take on the challenge after completing a neighborhood reconstruction project in Dr. Perry Bush's History Theory and Application course during his sophomore year.
"I enjoy history and research so much," said Winiarski. "Find something you enjoy and you'll do well in college."
Next semester, he's headed to Lima Senior High School to complete his student teaching experience. In addition to being a history major, Winiarski is getting his Adolescent/Young Adult licensure in social studies. The licensure will allow him to teach grades 7-12.
"I definitely feel prepared for the teaching aspect. I did a 30-hour field experience this fall for my Special Methods class," said Winiarski. "I know not everyone loves history, but I want to make it more enjoyable for my future students."
This spring will also mark Winiarski's final season playing for the Beavers. He credits Grandey for steering him to explore his interests outside of baseball.
"In college, I've always tried my hardest. Coach Grandey pushes us to be the best people we can be on the field and off the field," said Winiarski. "That's probably why I am so involved in residence life and I'm doing so well academically."
---
Gain hands-on experience and learn from faculty who are Fulbright scholars.