A 'second family'
11/04/2020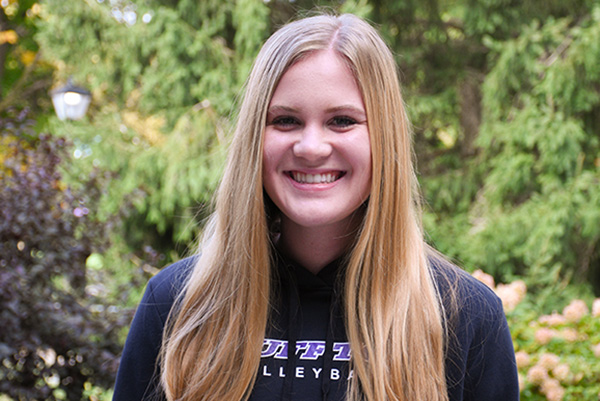 Finding support through college
From the difficulties of everyday college life, to personal tragedy, to the COVID-19 pandemic, Alana Holsapple '21 found a "second family" to help her through it all at Bluffton University.
"It's nice to know that in a tough time, everyone in the Bluffton community comes together to support you," said Holsapple, a psychology major and volleyball player from New Madison, Ohio. "It's very comforting."
Holsapple's biggest challenge of her college career, and her life so far, came just days before returning to campus for the fall 2019 semester. Her boyfriend Austin, a Bluffton football and track and field commit, died in a car crash. He would have joined her on campus that fall.
"My volleyball family really came through for me and sat with me before practice and offered their shoulders to cry on and talked with me even though the conversations were tough," explained Holsapple. "Even my professors and others on campus provided a support system that I didn't realize I had."
And in the spring, when students finished the semester remotely because of COVID-19, the support from her Bluffton family continued. However, she was relieved to return to campus, and in-person classes, this fall.
"During the stay-at-home orders, it just felt so lonely and it seemed like things were never going to get back to normal, but coming back was the first thing that made me realize, we are going to get through this," said Holsapple. "We're not through this yet, but we're wearing masks and taking precautions. Bluffton has been that place of normal that I haven't had, that anyone hasn't had, since March. It's been really nice."
Holsapple, an honors student and C. Henry Smith Scholar, is graduating in three years and is currently applying to graduate schools. She is also completing a departmental honors project on university attendance policies.
"It's an independent study, so I have to set aside time each week and make it like a class," explained Holsapple. "Deanna [Barthlow-Potkanowicz, associate professor of psychology] has been great with helping me set up a schedule and developing goals for each week. I'm actually ahead of where I thought I would be at this time in the semester."
Holsapple knew she wanted to major in psychology from a young age. In elementary school, she was diagnosed with OCD and worked with a therapist. Because of that experience, her goal is to become a clinical child psychologist.
"We worked together on workbooks and we played games and did play therapy. I just really connected to my therapist," said Holsapple. "As I grew up, I realized that I also wanted to help kids. The profession spoke to me."
When visiting Bluffton, she met with Barthlow-Potkanowicz and sat in on a few psychology classes. Bluffton was the first campus she visited that made her feel "at home." The opportunity to continue playing volleyball was the final piece that confirmed her college choice.
"Honestly, I'm going to miss my time at Bluffton because I am cutting it short, but I've made a lot of friends and I've had a lot of great experiences. It's a blessing to be back at Bluffton."