Making a difference
11/20/2018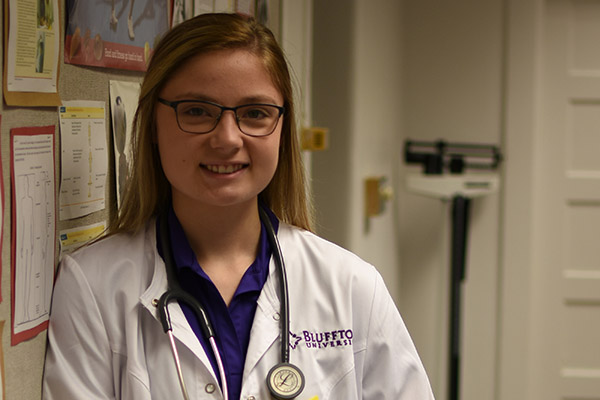 Nursing major wants to 'make a difference'
Paige Lawhorn has a mission in life: to help people. So when choosing a major, nursing was an easy pick.
"I want to make a difference and do something different every single day," explained Lawhorn of Continental, Ohio. "With nursing you get that."
The Bluffton University sophomore is already putting that mission into practice. Lawhorn is an STNA and works at Willow Ridge, a nursing home just down the street from Bluffton's campus.
"I absolutely love it there. We do all sorts of care, and we have a variety of ages," said Lawhorn. "I love the people."
Now that she's in the second year of Bluffton's four-year nursing program, Lawhorn is also getting weekly clinical experience at area hospitals. She's currently doing rotations at Blanchard Valley Hospital in Findlay.
"We get to see an array of things and go between floors. We've gone to the emergency department and we've been to ortho-neuro area— that's when patients are getting done with surgery," explained Lawhorn. "We get to help them with their neurological care during their recovery."
Through Bluffton's nursing program, hospital experience begins in the first semester on campus. Last year, Lawhorn chose to shadow nurses in a psychiatric unit and this experience combined with clinicals is helping her determine the path she wants to pursue in the nursing field.
Bluffton's program also features a unique partnership with Northwest State Community College in Archbold, Ohio. In the second two years of Bluffton's program, students take classes at NSCC, but continue to be advised by Bluffton's director of nursing, Dr. Sherri Winegardner.
"She's always encouraging us to step in when we're doing clinicals," explained Lawhorn. "We can do a lot of hands on things after we've been tested on the skills. Sherri really reminds us that we need to get in there and practice."
The ability to form close-knit relationships with faculty and students alike drew Lawhorn to Bluffton.
"Everybody pretty much knows everybody," explained Lawhorn. "You never feel alone. There's always somebody around to talk to if you need to."
While the nursing major is demanding, Lawhorn remains involved on campus. She is a student ambassador, secretary of the nursing club and a Becoming a Scholar Mentor.