Nursing major confirmed
11/18/2020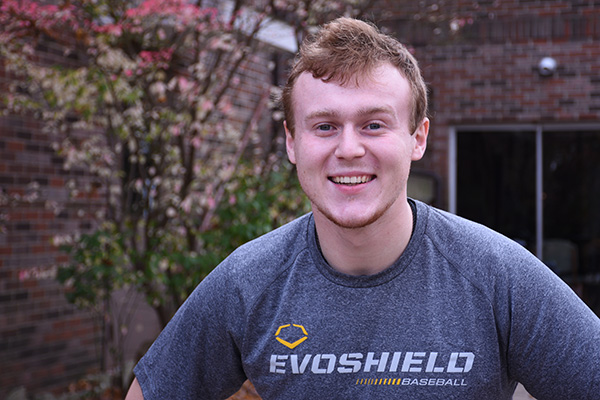 Reid Whitney: 'born to help people'
Reid Whitney '23, a nursing major from Harrison, Ohio, was initially drawn to Bluffton University based on his desire to continue his athletics career.
"I feel like I've played with the team all my life," said Whitney. "We're all just one big happy family."
While he admits that at times he's frustrated about the changes to athletics due to the COVID-19 pandemic, he's grateful the team was able to practice this fall and to play a scrimmage against Adrian College.
"We only played 10 games last year and one game so far this year, but the amount of memories we made in those few games will last a lifetime and are definitely worth everything else," said Whitney, a left-handed pitcher.
However, the more he learned about Bluffton's nursing program, the clearer his choice of major became.
"I realized during the middle of my [high school] senior year that helping people was my spot," said Whitney. "I was born to help people."
His choice was recently reconfirmed as he was tasked with helping his great grandfather recover after a trip to the ER and a stay in the hospital.
"I helped him with his insulin shots and stuff. I just want them (his great grandmother included) to be happy in general," said Whitney. "I was already pretty close to them, but the bond has just gotten stronger."
As a sophomore at Bluffton, Whitney is actually dually enrolled in classes at both Bluffton University and Rhodes State College. The partnership allows Whitney to live in the residence halls at Bluffton and compete for the Beavers while taking foundational nursing courses at Rhodes during his second and third years. Upon completion of these courses, Whitney will be able to sit for the NCLEX-RN examination and will enter advanced nursing coursework at Bluffton to earn a Bachelor of Science in Nursing (BSN).
At Bluffton, his favorite class has been anatomy with Sarah Lehman, assistant professor of biology, and he appreciates classes being primarily held in person.
"It's good to be on campus," said Whitney. "The face on face connection between people makes things 10 times better."
However, when he's struggling, Whitney leans on his coach and the director of his major.
"I can text Coach [James] Grandey any time, and I can just tell him anything," said Whitney. "With Sherri Winegardner [director and associate professor of nursing], I can do the same."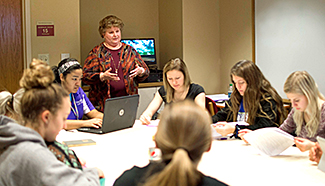 ---
Bluffton's BSN program allows you to continue competing in athletics while working toward a career in nursing.