Writing for therapy
10/09/2019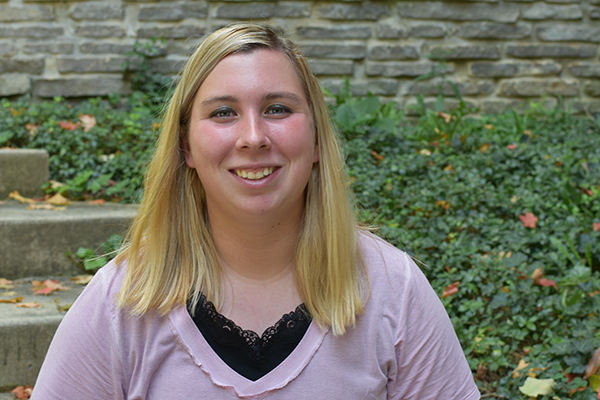 Combining passions, Finding vocation
By combining her passions, Dani Easterday '20, a writing major and English and psychology double minor from Barberton, Ohio, has a unique plan for her life after college. Easterday's goal is to become a writing therapist. The idea was championed by Dr. Deanna Barthlow-Potkanowicz, assistant professor of psychology.
"She sent me an email after last year's final exam and said she thought a career in some sort of psychology related field that also related to writing would suit me well," Easterday said, who further explained the vocation. "Writing therapy is a therapy style based on clients using different modes of writing to help them better understand what they are feeling and how they are behaving in regards to these feelings. It also provides them with a coping mechanism, or outlet, for these feelings should they occur again."
Easterday had previously planned a career in the publishing industry. As managing editor of "Bridge: The Bluffton University Literary Journal," Easterday is still pursuing this passion. Her responsibilities include reading submissions, making publishing decisions, designing layouts and working with authors. "Bridge" features the work of young writers, aged 14-24, from around the world. Bluffton students solicit, select, edit and publish the pieces.
"Working on 'Bridge' has given me a lot of publishing experience," Easterday said, who believes the experience can be translated into her future career. "By reading all of the works that come in, I'm able to get a better sense, when I have writing therapy clients in the future, of what they're trying to tell me."
Easterday believes her experiences in class will also help with her career aspirations.
"Right now, I'm in a Native American literature class, and we're learning about issues that minority cultures are facing," Easterday said. "I feel like that is very helpful for going forward in whatever career I choose. It makes me more aware of what is going on in the world."
The willingness to help students is a major strength Easterday sees within the English department.
"Their doors are always open for students to come in and ask for help," Easterday said. "They're also really good at helping students find jobs after graduation and writing letters of recommendation."
Being at Bluffton has also helped Easterday step out of her shell.
"I feel like I'm a lot more outgoing than I was in high school. I'm still an introvert, I'm still quiet, but I can definitely notice a difference," Easterday said.
Originally coming to Bluffton because "it felt like home," she says campus continues to feel the same way three years later.
"I come from a smaller town, but we don't have the community there that we have here," Easterday said. "If somebody knows somebody else is going through something on campus, everyone kind of rallies behind them. I love that."

---
Bluffton students selected the best submissions by young writers from across the country and across the globe.