Campus Relationships
09/30/2020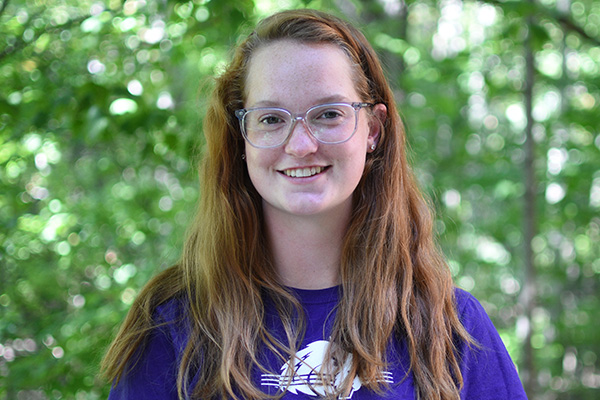 Haley Gill is enjoying the DIII life
When Indianapolis native Haley Gill was searching for a college, she was drawn to Bluffton University's small campus community and atmosphere.
"I graduated with 600 other students in my high school class, so coming to a place where you actually get to know everybody is nice," said Gill. "At Bluffton, I knew I would be able to build relationships with my professors, and that's something I've really enjoyed. You can talk to your professors about life or anything."
A sophomore nutrition and dietetics major, Gill chose her future career path in high school because she enjoyed chemistry but didn't want to study the subject as a major. Instead, a high school teacher suggested dietetics.
"I love my classes," said Gill. "They're so interesting and the classes for my major are always my favorite which is a pretty good indication I'm in the right area of study."
This year, Gill is serving as the event coordinator for the Bluffton University Nutrition Association (BUNA), which means she will have a vital role in the Nov. 6 Harvest Dinner. The student organization is making some changes to the format of the event, which in the past has included a sit-down meal for members of the community. Instead, BUNA is planning a drive-thru format for Harvest Dinner.
"Harvest Dinner is a great learning experience. Right now, we're researching to-go containers and bags," said Gill. "I think we're going to put out some really great food, and what we learn this year will provide improvements for coming years when we are able to have people eat on campus again."
Along with BUNA, Gill works in The Commons, is a member of Student Senate and plays golf on the women's team. With a score of 83, she broke the 18-hole school record earlier this fall and is tied with teammate Brylee Oberdorf '22 for the women's 36-hole record of 173.
"This year specifically golf has been quite an outlet for me," said Gill. "I'll go to the course, and I can just leave everything behind."
Since most DIII schools in Ohio canceled their fall golf seasons, the team has been playing more DII and NAIA competition, something Gill appreciates.
"We're seeing some longer courses, some that are a little more difficult, and we're playing against harder competition," she explained. "We have seen some big improvements so I'm excited to come back in the spring when we start playing against the teams in our conference."
---
Orders are now being taken for the 2020 Harvest Dinner. As always, Bluffton nutrition students plan and prepare the farm-to-table meal from scratch.