Drawn to heart care
09/13/2022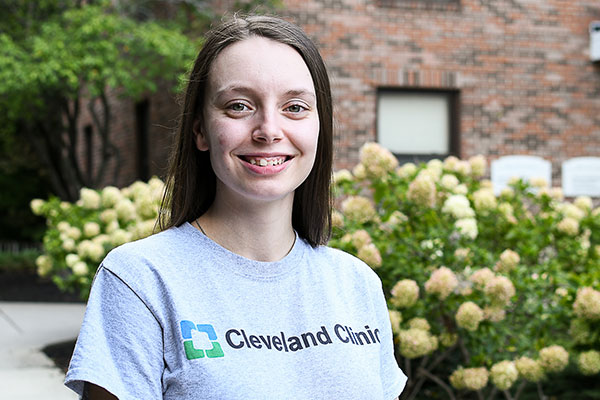 Cameron confirms cardiac care career
Lillianne Cameron '23, a nursing major from Canal Fulton, Ohio, chose nursing as her career path already in the seventh grade. More recently, she's become fascinated with the heart and cardiac care.
"I can't tell you why I love the heart so much, but it just makes sense to me," Cameron said. "Out of all the systems, I love it. I love learning about it; I love teaching others about the heart. I'm like a sponge when it comes to the heart."
Cameron gained valuable experience with the heart this summer while working as a clinical technician at Cleveland Clinic's main campus in one of several cardiovascular intensive care units. Cameron's unit specialized in surgeries.
"I worked alongside some of the world's best cardiac surgeons, and I helped take care of patients that had a bypass or valve repairs done," said Cameron.
A pivotal moment for Cameron was when she watched as five cardiothoracic surgeons opened a patient's chest at the bedside. While it's hard to imagine how a person would react in this situation in advance, Cameron said her mind went clear and she was ready to help the surgeons in any way they needed. Her favorite part of working in the unit was watching patients improve following surgery.
On campus, her favorite class, unsurprisingly, has been anatomy. She chose Bluffton University because of the small school feel.
"I wanted to have a connection with my professors. I wanted to get to know them and see them around campus and say 'hello,'" Cameron said. "I did a couple of different visits, and I instantly fell in love with the campus."
While the nursing major can be a challenge, she says Dr. Sherri Winegardner, director and professor of nursing, has a knack for encouraging students.
"She just knows exactly what to say to keep me going," explained Cameron. "She is definitely a very supportive person."
Cameron will continue working at the Cleveland Clinic during breaks. She plans to sit for her nursing boards this winter.

---
Become an RN and earn your BSN while participating fully in campus life and athletics.