Tim Bender '20
09/05/2018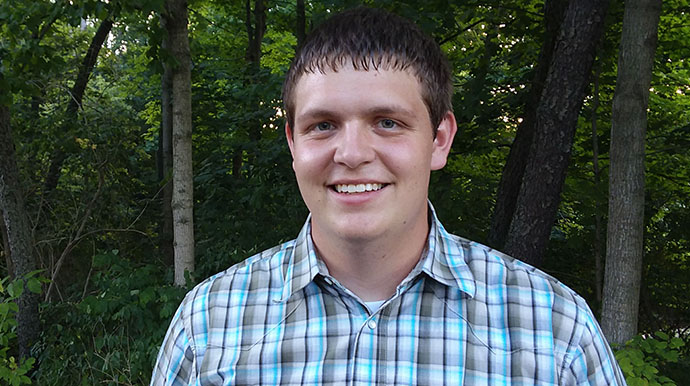 Finding direction through Summer Discovery Program
Utilizing Bluffton University's core value of discovery, Timothy Bender '20, a history and biblical and theological studies double major, spent the summer discovering what he wants to do with the rest of his life. With help from Bluffton's Summer Discovery Grant, he opened doors that are providing a new sense of direction.
"I took this as a true discovery grant in the sense that I spent my time exploring," said Bender, who is from Wellman, Iowa. "I wasn't really sure where I wanted to go after college. I realize now I have tracks in law, ministry or professorship open to me through graduate studies."
Coming from a background of teachers and farmers, Bender was uncertain of what graduate school and other professions might hold. The grant allowed him to step outside the traditional classroom experience and explore vocations that align with his studies at Bluffton.
"I find both history and religion deeply rewarding and challenging, and I find they give me skillsets in being able to write, articulate, process and empathize across issues with people," said Bender.
Focusing on these skills, Bender spent several weeks in his home state working alongside Mennonite pastors and their congregations, coordinating youth ministries, leading workshops with Hispanic congregations and meeting with an immigration lawyer.
Additionally, he attended the Central Plains Mennonite Conference annual meeting in Nebraska during the early summer, sitting with delegates and taking part in the business of the annual meeting.
"Working with leaders from all over that region was really empowering and really thought provoking," said Bender.
Though his home congregation is in the Central Plains Mennonite Conference, Bender didn't know many people at the annual meeting. However, he says the welcoming environment "felt more like a family reunion rather than a business meeting," providing an unexpected but rewarding experience.
Bender was introduced to the Summer Discovery Grant opportunity by Shari Ayers, director for Bluffton's Center for Career and Vocation.
"I was uncertain about my future and stressed about graduate school," said Bender. However, Ayers encouraged him to apply for the grant so he could "figure out the next steps."
With added help from history professors Dr. Martina Cucchiara and Dr. Perry Bush, Bender is excited about his future.
"As soon as I came back from the experience, Martina and Perry wanted to meet with me," said Bender. "They're helping me process a lot of this information and helping me look toward pursuing a departmental honors project to enhance my portfolio and chances of getting into a graduate program."
The Summer Discovery Grant is supported by the Karl Schultz Discovery Funds, an endowment established through the gift of Bluffton alumnus, Karl Schultz. The $1,500 grant allows students to develop their own four to six week internship to help them discover their calling. Two grants are awarded to Bluffton students each year.
"I really found it a tremendously valuable experience," said Bender. "I certainly hope other people are able to take advantage of it."
-B-
Cara Echols '19, PR student news writer