Career path in human resources
09/03/2019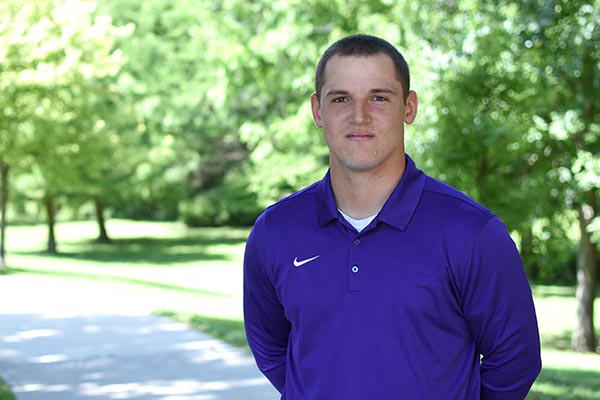 For Adam Duncan '20 a business administration and marketing double major from Northwood, Ohio, the key to succeeding in college is time management. On top of carrying a heavy class load, Duncan is a two-sport athlete at Bluffton University. In the fall, he's a receiver and kicker for the football team; in the spring he transitions to the outfield in baseball.
"I don't really have those days where you get to stay up late and then sleep in, but it's worth it 100 percent" said Duncan. "I've enjoyed every step of playing two sports and being a double major. I know it's going to pay off when I graduate from Bluffton and get my degree."
Duncan's initial goal was to pursue a career in sales and marketing. However, a summer job opportunity led him to the world of human resources and a dream career path he originally never considered. During the summer between his freshman and sophomore years, Duncan accepted a position as a Summer Vacation Replacement employee in the body shop of the Toledo Assembly Complex. The Fiat Chrysler facility in Toledo, Ohio, is where Jeep Wranglers and Gladiators are made. The following year, he was asked to transition to human resources, where he returned for a second time this summer.
"That experience opened my eyes to what I want to do. I want to find a job, whether it's in a big factory or a smaller company, working in HR," said Duncan. "This summer, I worked on the attendance for the whole plant. I was able to sit in on grievances and investigations, and I got a look into HR from both the employment side and the labor side."
The highlight of his summer was working with the interviewing of temporary employees. On busy days, up to 100 people may be interviewed at the plant. This fall, he's excited to increase his knowledge base in the area through the class Interviewing Skills and Theory.
Duncan was introduced to Bluffton by his sister Rachel (Duncan '14) Baksa, a teacher at Defiance Elementary School, and brother-in-law Derrick Baksa '14, a teacher and coach at Archbold High School.
"They had a big impact. I wanted to follow in their footsteps, and I could just tell this is where I needed to be," said Duncan.
Bluffton also encouraged his ambition to play two sports in college.
"Coach Grandey played both baseball and football in college, too," explained Duncan, of James Grandey, head baseball coach. "Bluffton was really the only school that said they would allow me to play both."
While having such a busy schedule might not work for every student-athlete or even every student, Duncan is confident he made the right choices for himself.
"It's not for everybody," said Duncan. "But the work ethic that's been instilled in me at Bluffton is going to take me a long way."