4 years, 4 internships
08/26/2020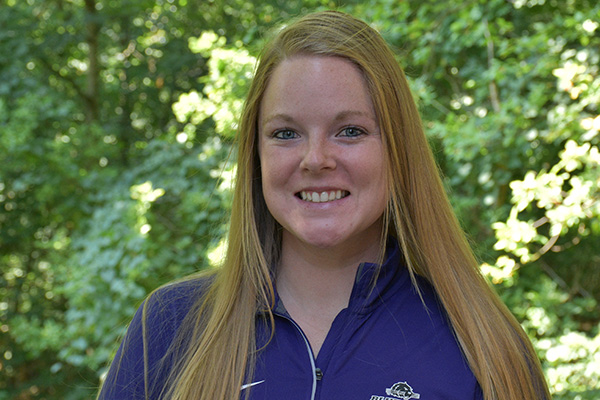 The hometown choice was the right one
Abbie Parkins '21, an accounting and business administration double major from Bluffton, Ohio, is getting as much hands-on experience as possible before she graduates. Entering her fourth year at Bluffton University, Parkins is currently completing her fourth internship.
"I love taking my knowledge and class work and using it in real-life applications," explained Parkins, whose internships were each in a different type of accounting—tax, credit, operations and general. "I got a feel for which type of accounting I like best and which path I would like to take for my future."
Parkins has interned for major corporations in the Bluffton, Lima and Findlay area including American Trim, Cooper Tire, Reichenbach &Steiner CPA and Marathon Petroleum. She landed each opportunity with the help of Dr. Jason Swartzlander, professor of accounting. The internship experiences helped her understand that it's okay to make mistakes and ask questions.
"While it's nice to figure things out on your own, it is also important to do your tasks correctly," explained Parkins. "Asking for help shows that you care about learning."
Parkins stays involved on campus as a member of the Student Investment Club, Bluffton University Business Leaders and C. Henry Smith Scholars. She also gives tours to prospective students as a campus ambassador.
When Parkins was searching for a college, the choice was easy. Bluffton was close to home, had professors invested in student success and provided an avenue to compete in basketball.
"I love being a student-athlete at Bluffton. I get to continue playing the game I love while getting and education and forming forever friendships with my teammates," said Parkins. "Coach [Chad Shutler] also cares so much about us as individuals and makes sure we are all doing okay outside of basketball. That's important."
While Parkins has had the benefit of the hometown crowd cheering her on at games in the past, she is also a major cheerleader for both the town and university.
"Bluffton is a wonderful place to be with so many unique people and things. I was born and raised here, and I have never wanted to leave. It's home," said Parkins. "My number one advice for future students is to get involved on campus and meet new people!"
Following graduation, Parkins plans to pursue a master's degree in accounting and sit for the CPA exam.