Internship connects Bluffton senior, alumni
07/15/2019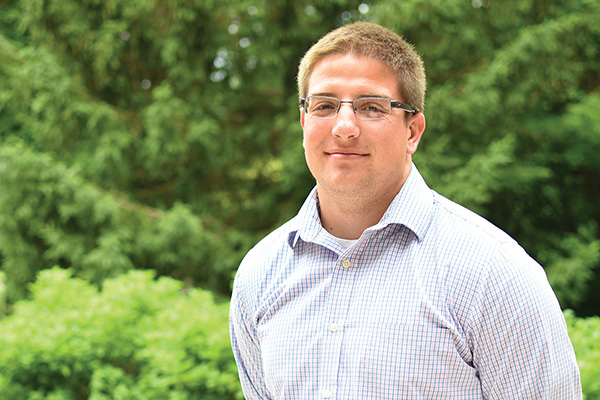 In his first position in an office setting, Dylan Shaffer '20, a business administration major from Shelby, Ohio, is learning just how much coworkers can shape an experience.
"The people who I work with are making this experience great," said Shaffer. "Anything I struggle with, I just turn around and somebody is there to help me. The training supervisor is doing a great job explaining everything because in this field it's all square-one for me."
Shaffer is spending the summer at Auto Owners Insurance in Lima, Ohio, completing a paid internship working in the field of insurance underwriting. It's a lot different than his previous summer jobs in maintenance and manual labor, and this experience is giving him a resume builder.
"This is an opportunity to put to use what I'm studying and to determine what I want to do for the rest of my life," said Shaffer.
Shaffer learned of the internship opportunity when Auto Owner's held open interviews on campus. Over the years, the office, led by Steve Speicher, the company's regional vice president of Ohio and a 1996 Bluffton alumnus, has become a regular employer of Bluffton students.
With several Bluffton alumni in the office, Shaffer said, "you have that common ground so it's easy to strike up a conversation and make connections."
It's a similar feeling of ease that drew Shaffer to Bluffton, who is also a linebacker on the football team.
"Bluffton felt like home when I came on visits," he explained. "I play football here; it's not the only reason I came here, but it helped out that the coaching staff made me feel at home."
Football inadvertently drew him to choose a marketing concentration for his business administration major.
In high school, Shaffer led his team for three years in selling coupon cards as a fundraiser. "So I decided if I can be a door to door salesmen, then maybe this is the right path," joked Shafer, "but really a business degree will open doors in many areas."