Learn and Earn
06/05/2019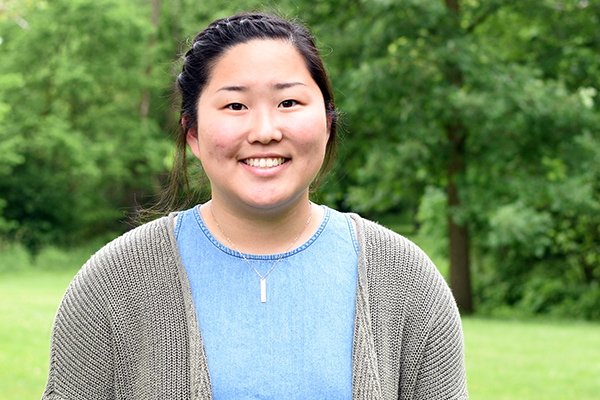 Learn and Earn position helps Schutz connect on campus
Before coming to Bluffton University, Caroline Schutz '21, a TESOL major from Rawson, Ohio, had never held a job. Instead she focused on academics and athletics, but when she was offered a Learn and Earn position in the admissions office, she decided to enter the working world as a student employee.
"I definitely think working here has helped me establish accountability, team work and conflict management skills," said Schutz. It's given me a peek into the future and has shown me how connecting with people and building relationships can propel you forward."
At Bluffton, there are more than 600 Learn and Earn jobs available to undergraduate students. These positions help students gain work experience, develop transferable skills and build a resume all while earning a paycheck.
As a student employee, Schutz works on projects such as printing and sending mail to prospective students, uploading data into a software management system and giving campus tours.
Since starting, she has seen both her responsibilities increase and her connections to her coworkers grow.
"When I first started, I was shy and timid, but the admissions counselors I work with take your opinion and listen to you," explained Schutz. "It's cool to see how everything fits together in admissions—how visits translate to students applying and depositing and coming to campus."
Schutz was initially hesitant about visiting Bluffton in high school. Growing up just a quick drive from campus, she had plans to venture farther from home for college, but then she came on a few visits.
"The more I came, the more I could really see myself here," said Schutz. "The thing that stood out about Bluffton was that when I came on visits, people remembered who I was. Faculty members knew my name and the other soccer players remembered me. That was a really big thing for me, and I realized they honestly care about me as a person, not just as a student or an athlete here."
Schutz now considers Bluffton her "home away from home," and will help grow the sense of community on campus as a resident assistant in the fall.
"It really is a community here. So even though I live 10 minutes away, I have a life here with a second family I've built on campus through the residence hall, soccer team and friends I've met at work."