Forming connections through faith
06/04/2020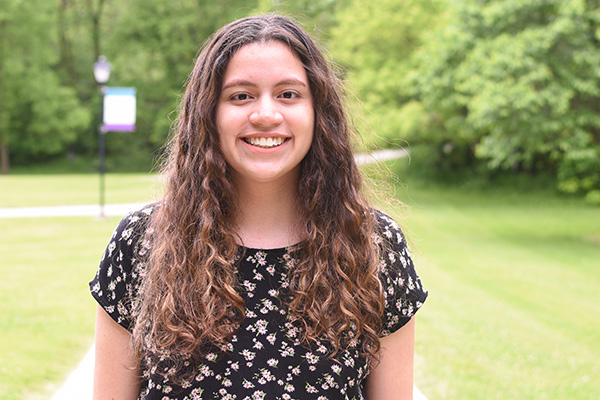 International student forms connections through spiritual life, language and design
When Leslie Diaz Valdiviezo '22, moved to the United States to live with her sister (Cynthia Fleming '13), her goal was to improve her English language skills before going to college. Now, the graphic design and marketing double major from Chiclayo, Peru, is helping others develop their second-language skills while growing their faith. Diaz hosts weekend bilingual Bible studies over Zoom which connect American and international students from Bluffton University with friends from Peru, Mexico and Colombia.
"We keep growing. I'm very excited about it because I love learning about different cultures and hearing the different Spanish accents," said Diaz. "The best way to learn a language is to speak it."
Students who want to improve both their Spanish and English skills are taking part. The idea actually started on campus. Diaz and her roommate, Elena Smith, a graphic design major and ministry assistant from Sheffield Lake, Ohio, organized an on-campus bilingual Bible study during the spring 2020 semester.
"I think it was a big success. People really enjoyed it and ate all of the Latin food we had," said Diaz. "Then the virus came and we had to leave campus, but we plan to have it on campus again in the fall."
Diaz initially started college in Peru studying architecture. After moving to Bluffton in the summer of 2018, she got a full-time job at McDonald's to improve her English skills and later met with Dr. Paul Neufeld Weaver, director of global education, who encouraged her to apply. Diaz moved on campus, started taking classes in spring 2019 and realized graphic design was a better fit for her future goals.
"I've always felt an environment here that Bluffton was like my family," said Diaz. "I've met international students from many countries and I feel very welcome here."
In the fall, Diaz will serve as a ministry assistant. She's involved in the ALPHA Bible study groups and participates in Chapel. She also enjoys going to the Bluffton University Nature Preserve and taking part in campus events including karaoke at Bob's Place (even though she doesn't sing). Next year, she plans to participate in the Lip Sync contest with her friends.
"I like living on campus and getting the college experience and meeting new friends," said Diaz.
While she was originally nervous about fitting in on campus, she quickly felt at ease after meeting other new students at a special spring semester orientation for international students. Then, she met Smith through her graphic design classes.
"We became friends instantly. We have the same major and we just started hanging out," explained Diaz.
Diaz and Smith share a triple room with Luisa Rivera, an international student from Honduras, who also participates in the bilingual Bible studies.
This summer, Diaz is honing her graphic design skills as a student worker in Bluffton's public relations office. So far, she's worked on a collage for the fall play, created graphics for Bluffton athletics and taken campus photos.
"I love it. It's different because I'm doing something I like. It's not fast food," she joked.
While she's not exactly sure what she would like to do after graduation, Diaz most enjoys designing inspirational messages and would love to work for a big corporation like Disney.
"I just want to bring something positive into the world."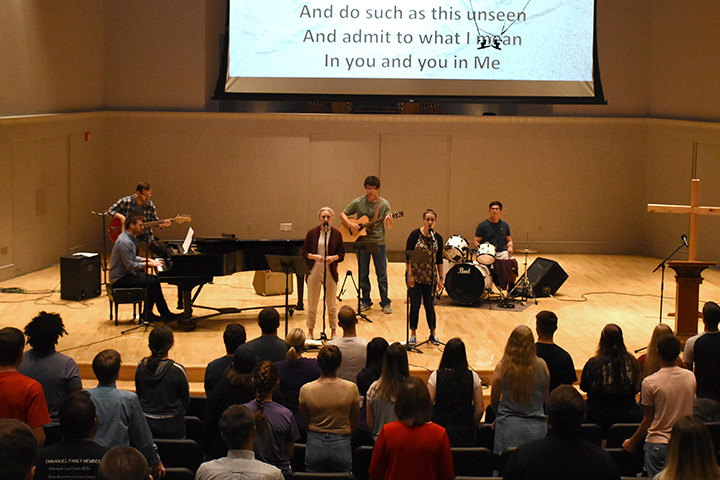 ---
Ministry assistants help students get involved in campus ministries and activities. Assistants are chosen in the fall via an application and interview process.