Competitive internship
05/31/2023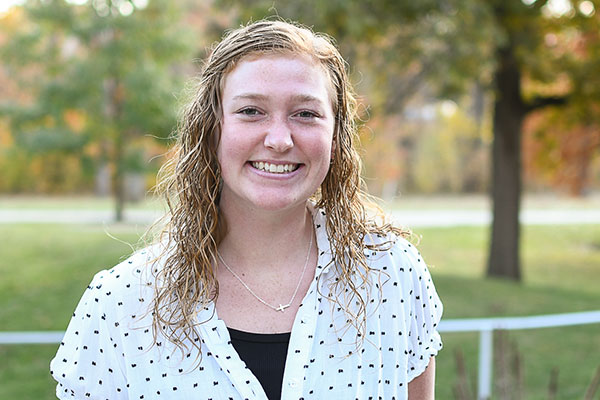 Exploring Food service management, sports nutrition and more
Meredith Obringer '24, a nutrition and dietetics major from Tiffin, Ohio, struggled with science in high school, but once she started taking classes at Bluffton University everything just "clicked."
"You learn the science of how food is broken down and which foods contain which nutrients, so it's really interesting," said Obringer. "Taking classes like Food Science while taking Chemistry at the same time allows you to grasp it, to understand the material way more."
Obringer's dream job is working in the field of sports nutrition, and she'll gain experience in the area during an internship at Purdue University's Department of Nutrition Science this summer. While focused on food service management, the internship includes several rotations including sports nutrition.
"I love being active and seeing how the body works through exercise and what we eat," said Obringer.
The highly competitive internship is routinely awarded to Bluffton students.
"It's a once in a lifetime opportunity. It's all paid. They're even paying for my living expenses and a meal plan," said Obringer. "It's a full-time job doing something I actually want to do!"
On campus, she's the incoming vice president of BUNA (Bluffton University Nutrition Association) and a member of Campus Ministries.
As a pastoral assistant, Obringer helped implement changes to Bluffton's Thursday Chapel services. After rotating the location throughout the year, Obringer was most excited to hold Chapel in Bob's Place which allowed people to easily join in ahead of lunch.
"Being on the ministry team, I love it so much. I just love meeting new people," said Obringer. "If I hadn't joined the team, I wouldn't know half the people that I do now. We are so diverse as a team, but we really come together."
This fall, she's excited to start clinical rotations at Mercy Health St. Rita's Medical Center.
"I'm more of a hands-on learner," explained Obringer.
Following graduation, Obringer plans to continue her studies to earn a master's degree.
---
Prepare for a career as a Registered Dietitian Nutritionist, an allied medical professional focused on the science and practice of human nutritional care.