Making history fun
05/24/2023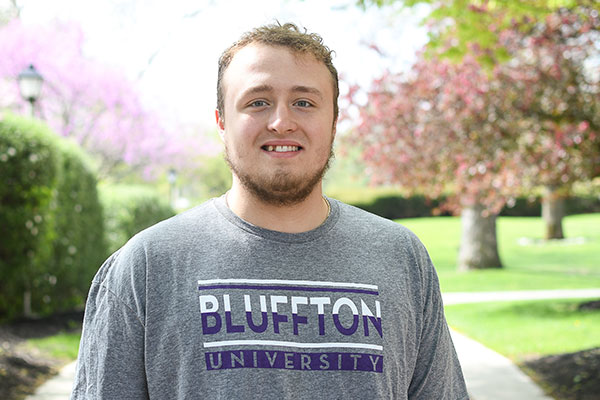 Ready to make an impact
Kyle Jolliff '26, a history major from Marion, Ohio, was inspired by his high school biology teacher to pursue an AYA (Adolescent/Young Adult) licensure to teach grades 7-12.
"He just made teaching seem really fun," said Jolliff. "You could tell he enjoyed what he was doing, and he just made a really big impact."
Jolliff wants to do the same in his own classroom one day.
"I want to have a rewarding career and to impact future generations," he explained.
During his first year at Bluffton University, Jolliff's schedule was mostly filled with education and history classes. He came in excited to learn more about American history but especially enjoyed the history classes taught by Dr. Martina Cucchiara, professor of history.
"I've had three Martina classes now, and she's instilled in me more of an appreciation for world history, I would say," said Jolliff. "I really learned a lot in the WWI class and the Nazi Germany class."
On campus, Jolliff is a student assistant in the history department, a BEO (Bluffton Education Organization) officer and a President's Ambassador. He has also revived the History Club and currently serves as its president.
"We try to do something once or twice a month. We've had movie nights and trivia nights. At our last event, we had 15 people. We have a good foundation now," said Jolliff. "I was a little surprised that there were a lot of non-history majors who came out to see what we were all about."
In high school, Jolliff knew a few students who chose Bluffton and heard good reviews.
"Then, when I visited it just felt right," said Jolliff. "I liked the campus and it felt like home."
During his first semester, he appreciated going on the Great Adventure, an experience for first-year students to the Great Smoky Mountains of Tennessee. Jolliff said it was a great way to reflect on the initial choices he made in college while forming closer bonds with his classmates.
"It's a good way to meet new people and you obviously can't complain about ziplining!" said Jolliff. "I had never been to Tennessee before so that was cool."
As for his future, Jolliff confirmed his vocation during Bluffton's first-year classroom experience for education majors when he shadowed at Ada High School. He followed up that experience by substitute teaching during breaks.
"It's prepared me to be a better educator in the future," said Jolliff. "I do believe I made the right choice."
---
Historians need a variety of skills to effectively interpret the past to the present. They must be critical thinkers, excellent writers and adept oral communicators. At Bluffton, you will develop these skills and more.