Changed trajectory
04/24/2019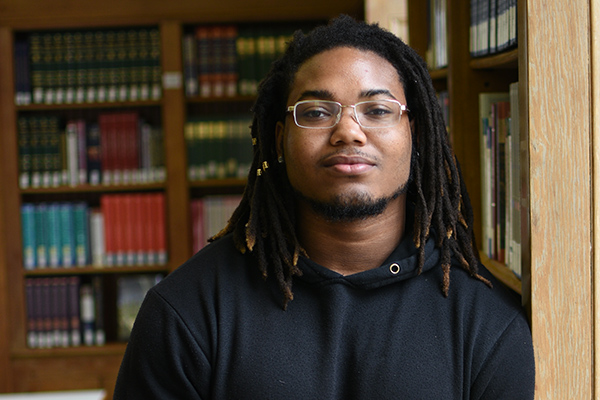 Zickafoose finds a way to impact lives
Isaac Zickafoose, a sport and recreation leadership major from Middlebury, Ind., was unsure of his plans following high school graduation, but at the urging of a family friend and Bluffton University alumnus, he made a last minute decision to visit. Zickafoose enrolled at Bluffton and changed the trajectory of his life.
"College gave me the chance to grow. I'm not the same person I was my freshman or sophomore year," Zickafoose explained. "I've been able to grow because of mentoring from Jacqui [Slinger, director of academic development services], Tyson [Goings, director of residence life and multicultural student organization], all of my coaches over the years and the great group of friends I've made."
As a freshman, Zickafoose enrolled in the Discovery Program, a program which supports students of promise who do not meet the initial admission requirements. Through the program, he developed the study habits and skills he needed to succeed.
"Coming here, there was a switch," said Zickafoose. "I had study hours and coaches who cared about me. I wasn't taught how to study before. I would just look over the notes quickly the night before. When I got to college I put in the hours."
Putting in the hours on and off the field paid off for Zickafoose. Now a senior ready to graduate, he serves as a mentor in the Discovery Program, is vice president of the multicultural student organization and was honored as distinguished scholar in sport and recreation leadership. He was also named Outstanding Senior Male Athlete of the Year.
While Zickafoose found mentors at Bluffton to support his successes, he became a mentor back home during an internship with the Boys & Girls Club of Elkhart County. He set up a football camp and worked with kids ranging in age from 5 to 12.
"I enjoyed that. Just seeing their growth in the few months I was there, that was amazing," said Zickafoose. "I couldn't believe I actually made an impact on their lives."
Besides the accolades, which also include his position as school record leader in sacks, tackles for loss, quarterback hurries and fumble return yards, Zickafoose says the main thing he will take away from Bluffton is maturity.
"I realized that you need to surround yourself with people who have the same goals as you and who push you to be better," said Zickafoose. "Sometimes my friends are competitive, but that's because we all want to be great."