Internship leads to job offer
04/13/2020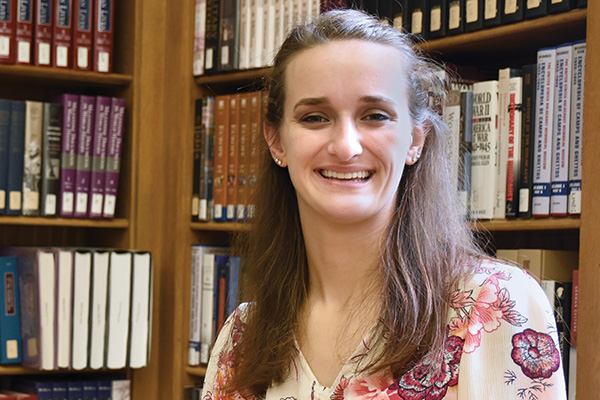 experience, encouragement leads to accounting position with Progressive Insurance
When looking at colleges, Michelle Swartley '20 recognized she would be more successful attending a small school, and Bluffton University's size and encouraging professors and students led her to move almost nine hours from home.
The Cedar Falls, Iowa, native recently finished an internship at Progressive Insurance, where she was then offered a full-time position after graduation.
"I know that if I went to school anywhere else, I probably never would have had the courage to go out and get an internship at a company like Progressive," explained Swartley, an accounting and economics double major. "The fact that I had multiple professors and friends encouraging me to go after an opportunity like that is the reason I took that leap and decided to apply."
Swartley spent her internship working in the HR Control Group and with People Analytics at Progressive. She was able to gain a variety of professional skills, which landed her a job offer.
Upon graduation, Swartley will be moving to the Cleveland area to work in Progressive's accounting rotation program. This program allows employees to spend time gaining experience in various departments over the course of two years.
On campus, Swartley enjoyed being part of academic organizations like the Investment Club and the Bluffton University Business Leaders (BUBL).
"My favorite part of the Investment Club was when we invested fake money to learn how investing works in the real world," said Swartley, who was the secretary of the Investment Club and president of BUBL.
BUBL provides students with opportunities to meet and learn from alumni, practice professional skills and gain broader perspectives and insights into the business field. As president, Swartley was able to plan those events.
At Bluffton, "It's all about relationships," and Swartley affirms this.
"The biggest takeaway I have is the importance of relationships," said Swartley. "The main reason I learned so much at Bluffton was because I was able to connect with all of my professors. I felt comfortable going to them with any question, and they were always willing to help me with whatever I needed."
Swartley names Dr. Jonathan Andreas, professor of economics, as her mentor. He helped her discover her interest in economics and analytics work that isn't directly related to accounting. She also credits Dr. Jason Swartzlander, professor of accounting, for encouraging her to push herself and attend the career fair where she learned of the Progressive internship.
"Jason helped me through the whole process and got me prepared for each step of the interview and hiring process," said Swartley. "I'm extremely grateful for that."
Swartley firmly believes Bluffton has prepared her for a job in the "real world."
"In a lot of my classes I feel like my professors would teach us something, but then apply it to how they have used it in a real life situation. They also encourage us to get internships which is the biggest thing that prepared me for a real job."