Finding untold stories
04/06/2022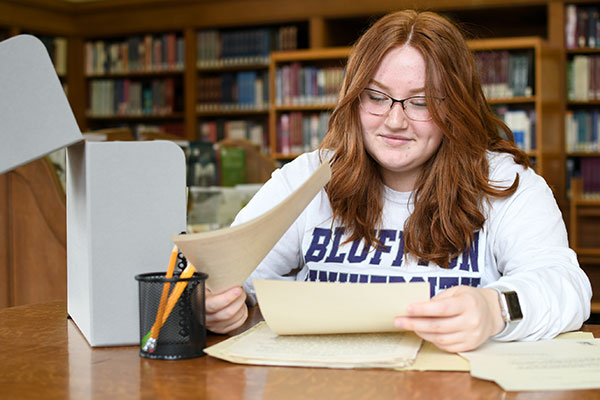 History major learns about Japanese American students at Bluffton during WWII
Cierra Long '23 a history major from Urbana, Ohio, has always been fascinated by history.
"While the other kids played outside, I stayed in the house and listened to stories from my grandparents about their childhood," explained Long.
Now a Bluffton University student, Long had difficulty narrowing down a topic for her final paper in Dr. Perry Bush's Research Seminar course. So, when she expressed interest in writing about the "internal war we put on our own U.S. citizens during wartime," including German Americans during WWI and Japanese Americans during WWII, Bush shared a little-known piece of Bluffton history that she latched onto.
"I eventually said something about Japanese internment, and he said, 'Did you know Bluffton College actually had students from internment camps during WWII,'" explained Long. "It was such a cool find, but we don't have a lot of information at Bluffton."
For the 30-page paper, Long provided a broad overview of the National Japanese American Student Relocation Council and completed a cross-examination of efforts at Bluffton, Earlham College and Oberlin College to enroll interred students.
Four students in total came to Bluffton: Robert Kumata, Richard Okada, Shigeru Matsunaga, and Midori Florence Higa. Kumata finished his studies at Bluffton, Okada transferred due to his major. Matsunaga left because of financial reasons. And Higa left to care for her ailing mother in Montana. Of the four, Kumata and Okada spent the most time on campus.
While she found several first-hand accounts from Nisei (the term for children of Japanese-born immigrants) students at Earlham and Oberlin, Long's research at Bluffton led her to a trove of letters from Dr. Lloyd Ramseyer outlining his efforts to bring students to Bluffton. Ramseyer served from 1938-1965 as Bluffton's fourth president.
"Even though we weren't as successful as some other colleges in getting students here, I thought it was amazing that Lloyd Ramseyer and the college never stopped trying," said Long, who also found information in Musselman Library's archives from the "Bluffton News" and "The Witmarsum" student newspaper.
Outside of class, Long is active on campus as president of Peace Club. She also attends Brave Space meetings, is a student engagement advocate and is a C. Henry Smith Scholar. She previously served on Student Senate, and her research uncovered connections to her campus life.
"Being the Peace Club president, I thought it was really cool that the Peace Club at Bluffton at that time was doing drives aiding conscientious objectors in CPS (Civilian Public Service) camps and Student Senate was leading a war relief committee where they were gathering supplies," she said.
Long plans to become certified to teach adolescent and young adult students, but she ultimately wants to earn her Ph.D. and work in higher education. Bush has encouraged her to continue to research Japanese internment and the Nisei students as a possible dissertation topic.
"Eventually, I want to teach people's history — the stories that aren't often told," said Long. "If I continue this research, I can look at more schools and really go in-depth."