The next step
03/31/2021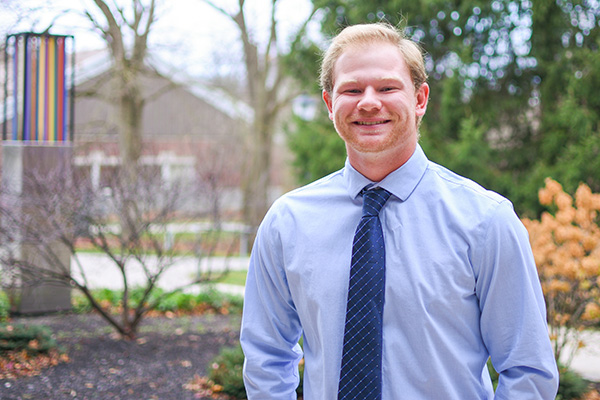 Family, coach and teammate support is key to Latkofsky's success
After four years of baseball at Bluffton University, Jake Latkofsky '21, a pre-physical therapy major from Temperance, Mich., is ready to explore the sport from a different viewpoint. Latkofsky was recently accepted into the Doctor of Physical Therapy (DPT) program at Mount Saint Joseph University. His ultimate goal is to work with athletes—specifically baseball players.
"I'm very excited to take this step even though I know it's going to be really challenging," said Latkofsky. "It's reassuring to know that my hard work throughout my undergrad has led me to this opportunity, and I'm excited to start learning the content that's essential to becoming a physical therapist."
For Latkofsky, baseball has been a life-long passion. He started playing at the age of four and was on a travel team by the age of eight. His biggest fan was his dad who passed away during Latkofsky's sophomore year.
Support from the Bluffton community, including coaches and teammates, helped him get though the season and move forward. More than 40 members of the team traveled to his dad's funeral and coaches have carved out extra time to regularly check in with him.
"It was tough to say the least, but the one thing that really helped me was how much people at Bluffton reached out to me," said Latkofsky. "Having that, it definitely reassured me that I chose the right school for me and that people actually cared."
Now, he fondly looks back on being named Freshman of the Year for the Heartland Collegiate Athletic Conference.
"When I won freshman of the year my dad would bring it up to everybody he talked to. In the moment, this embarrassed me," said Latkofsky. "However, it also made me realize just how proud he was of me. That's one thing that brings me comfort whenever I think about him. I know I made him proud before he passed away."
Off the field, Latkofsky is a member of Student Athletic Advisory Committee (SAAC) and works in the admissions office. He chose Bluffton because it simply felt like home.
"I visited campus three times, and each time I visited, I progressively became more convinced that Bluffton was where I wanted to be," said Latkofsky. "By my last visit I knew that Bluffton was where I wanted to go."
---
While admission requirements to physical therapy postgraduate programs differ, Bluffton's pre-physical therapy major, with classes in biology, chemistry, mathematics, physics, social sciences and health fitness and sport science, will be a good start.