Strong relationships
03/13/2020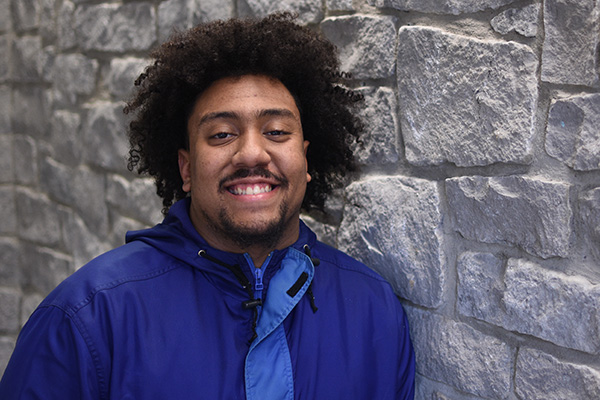 Bluffton senior credits strong relationships as reason for success
As a first-year student, Von Thomas '20 came to Bluffton University primarily to play football. After spending almost four years here, Thomas said he feels like the university has become his second home.
"It was one of the many places I visited my senior year of high school," Thomas said. "Since I've gotten here, it has felt like home for me. It was a good institution for me to set off my career."
While Thomas has enjoyed his four seasons playing football, he also values the relationships he was able to form and the lessons he learned along the way.
"I've had the pleasure of having two great-minded human beings being my head coach, in both Coach Dorrell and Coach Krepps," Thomas said. "I'm fortunate to have been able to learn from both of them."
Being the vice president of the Multicultural Student Organization and having a job at the information desk have both enabled him to do one of his favorite things at Bluffton — meet new people.
"I'm a people-oriented kind of person. If I see somebody in the cafeteria just chilling by themselves, I'll talk to them or even just say hello," Thomas said. "I'm just a people person; I'll talk to anybody and everybody."
Thomas, a history major and education studies minor, said he appreciates all of his history professors, who each have their unique strengths.
"Every class with Perry [Bush] is something brand-new, and something you would never think about on your own. Martina [Cucchiara]'s knowledge of world history is just out of this world. To me, Alex [Sider] mixes a church mindset into his own mindset, and he kind of teaches like he's preaching the gospel," Thomas said. "They are all very intelligent, and they have a strong mindset within their craft."
Thomas cites the Discovery Program, and Jacqui Slinger, director of academic development services, as part of the reason for his success here. He also said he's learned a lot about how to deal with the demands and stress of college.
"If someone gives help out, take it and receive it," Thomas said. "Every time Martina gives a tutoring session, I make sure I go, even if I think I know the information. Every time Perry wants to have a meeting with me, I make sure to show up on time to hear the information he wants to instill in me. It shows them that I care."
After graduating, Thomas wants to go to graduate school to get a master's degree in school counseling. Until then, he can see himself coaching high school football, getting a job in his career field or substitute teaching. He said he's looking forward to taking the relationships he's built at Bluffton with him wherever he ends up next.
"I've loved meeting new people in college. There are a lot of students here that are from cities and states that I never thought I'd be able to meet people from," Thomas said. "I've responded to that really well. That's the main thing I'm going to miss about Bluffton, the people—both the professors and the students."
- Aubrey Bartel, public relations student assistant
Update: Von is a graduate assistant and master of arts in higher education student at Geneva College, Beaver Falls, Pa.
10/2020