Curating poetry
03/05/2019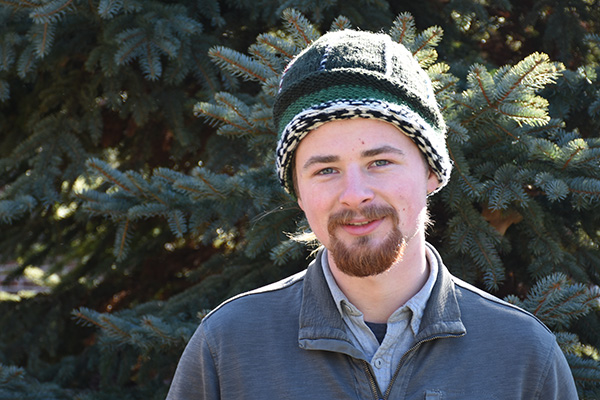 Finding meaning through poetry
Obi Martin '20, an English major from Juniata County, Pa., enjoys looking for "the possibility of meaningful engagement with reality" through poetry and the exchange of ideas. A poet, Martin also maintains, with friends, an online poetry journal that offers a voice to conservative Mennonite and Anabaptist writers.
"Language is the best way I've found to make sense of or understand reality," said Martin. "Language is one of the most interesting things about humanity, to me at least. It's something that I value and that I want to engage in and engage with better."
"I'd read Jeff Gundy's poetry and had had friends who read his poetry, and I thought that he'd be a great guy to come study poetry under," said Martin.
With a desire to investigate language and its ties to reality, Martin took part in online poetry groups that allowed members to exchange and critique one another's works. Through those interactions, "The Curator" was born.
"'The Curator' is a poetry publication facilitated by and for predominately the conservative Anabaptist, Mennonite audience," explained Martin. "We're trying to provide a voice to amateur, Mennonite poets who maybe aren't writing or publishing a lot, or to those who don't have a lot of outlets."
Taken from the name of one who collects and preserves items of value and interest for display, "The Curator" ran its first poem in June 2016. Alongside editing for "The Curator," Martin works with "Bridge: The Bluffton University Literary Journal" as a poetry editor. Martin says he's grateful for the work with both journals, as they each provide insight and experience for the other.
Martin and his fellow "The Curator" editors hope to broaden the audience of the journal and gain more submissions as well as readership. The journal is currently printing postcards to help gain more readers and will host a literary weekend retreat in Franklin, Pa., in the summer.
His own connection to the poetic world and his inspiration come from numerous sources, but when asked about which poets have been the most influential on him, Martin sites one of his closest friends, Kenneth Godoy.
"His poetry has probably been the most influential on me; subject, content, style-wise, friendship-wise and relationship-wise."
More well-known poets that inspire Martin are Christian Wiman, John Ashbery, Richard Wilber and Sidney Lee. Martin says the prospect of working with poet and professor of English, Jeff Gundy, was one of the things that drew him to Bluffton.
"I'd read Jeff Gundy's poetry and had had friends who read his poetry, and I thought that he'd be a great guy to come study poetry under," said Martin.
As for his own writing, Martin enjoys writing and reading poems that find new ways of looking at common, everyday objects.
"I mean maybe that's a cliché, I guess, but it's a great cliché," he said.
After graduation, Martin would like to teach literature in a public school.
"Working as a department assistant with [English professor] Cynthia Bandish has been really valuable as well. It's great preparation for seeing sort of the administrative side of class preparation."
He hopes his passion for literature, language and their connections with reality can help others find their own reality.
"I want to communicate literature and ideas and bring value to the education of kids."
Cara Echols '19, Student News Writer