Ready to stand out
02/27/2019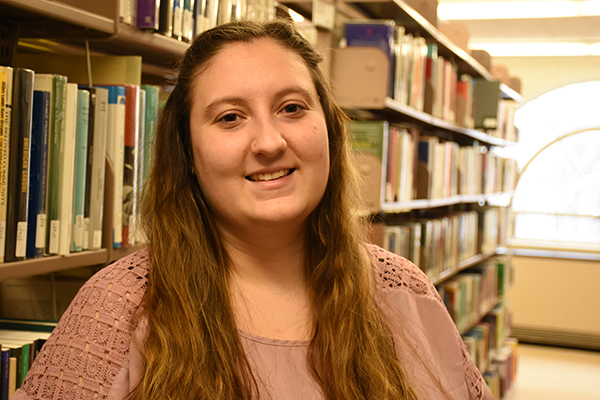 Finding herself through helping others
Abbi McCormick '19, a psychology and sociology double major from Maumee, Ohio, spent the last four years finding herself at Bluffton University. Through encouragement from professors, cross-cultural experiences and valuable vocational opportunities, McCormick has developed the skills and confidence to pursue a master's in mental health counseling following graduation. She has already been accepted into Wright State University's program.
She faced many major obstacles on her way to Bluffton.
"I was diagnosed with dyslexia in the first grade and then in middle school I was diagnosed with a heart condition," McCormick explained. "I really struggled to fit in, find myself and be proud of what I was doing."
But she had an instant connection with Bluffton starting with her first visit as a freshman.
"I just feel in love with the campus," she said. "When senior year came, I applied and got accepted; and there was no question about it."
Although she had been certain about choosing a college, McCormick says her confidence in herself and her own work still needed to grow.
"I was very unsure about myself. I would often ask if I was doing something right," said McCormick.
With mentorship from Dr. Deanna Barthlow-Potkanowicz, assistant professor of psychology, and Dr. Matt Friesen, assistant professor of sociology, McCormick says she was able to find greater confidence in her academics. However, her full transformation took place during her semester-long, cross-cultural experience to Guatemala, where she experienced culture and people unlike she had known before.
"It's kind of funny that the time I felt like I truly found myself was all the way in Guatemala my sophomore year," explained McCormick. "Once I came back, I found my place and accepted who I was more than I had ever before."
Renewed by her experience and a desire to help others, McCormick pursued opportunities that related to her field of study and what she enjoyed. Having earned her STNA license in high school, she began working in a dementia unit in a nursing home.
While she enjoyed geriatric care, McCormick is currently focusing her efforts at the Allen County Juvenile Detention Center in Lima, Ohio, where she works full-time. She previously interned at the JDC as a reading mentor through a partnership the university maintains with the facility.
"I really enjoyed working with the residents there and hearing their perspectives on life," explained McCormick.
Because of the opportunities to both grow personally and professionally at Bluffton, McCormick is now ready for to make her presence known.
"I used to not want to stick out. I used to always be scared to speak up in class, but now I'm willing to give my opinion and share what I know," she said. "I really think that has to do with the professors here and the whole environment of Bluffton."
Cara Echols '19, Student news writer