Remote internships
02/15/2023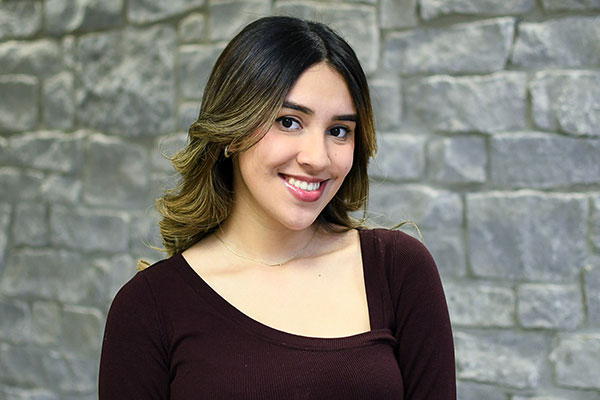 Pushing herself to master new skills
Growing up with her family business, Sarah Rivera Rios '23 from Comayagua, Honduras, originally planned to bring home a business administration degree from Bluffton University. However, as she took on more classes, her aspirations changed. She is now a double major in business administration and marketing, along with a concentration in international business and a minor in public relations.
Last semester, Rivera Rios gained experience through a remote marketing internship through a firm out of Palm Beach Florida, who helps other small businesses. She managed social media accounts and maintained a focus on targeting audiences and reporting statistics.
"I think that it helped me a lot for experience, and it was a base for my next internship that I'm currently in," she said.
Rivera Rios is currently completing an internship as the marketing and communications associate with a leadership nonprofit for women called Impact Now and does social media and marketing. Marathana Prothro, assistant professor of communication, encouraged her to apply.
"For us international students, it is challenging to get an internship because there is a lot of paperwork behind it," said Rivera Rios. "You have to submit so many things to the government. Some companies feel like that is a burden, but I feel this internship has welcomed me and they have helped me through the whole thing."
While the two internships have been remote, she learned that she enjoys working on teams.
"I think overall it taught me that I rely on others and others rely on me, and how our work together can affect the overall performance," said Rivera Rios.
She's also focused on learning new skills outside of internships and the classroom. Rivera Rios has sharpened her graphic design skills by watching tutorials and practicing on her own.
"Once you go out and look for a job, those are the things that companies are looking for," she explained.
On campus, Rivera Rios is a President's Ambassador, a member of Delight Ministry and a C. Henry Smith Scholar. She works as a supervisor in the technology center and in Freshens.
She appreciates the small, welcoming and close-knit atmosphere of Bluffton.
"It was a good transition for me because being far away from home and being at a big place would have been overwhelming and a culture shock," said Rivera Rios. "But being here, it's a communal place and you are able to build relationships."