Experiential learning
02/10/2021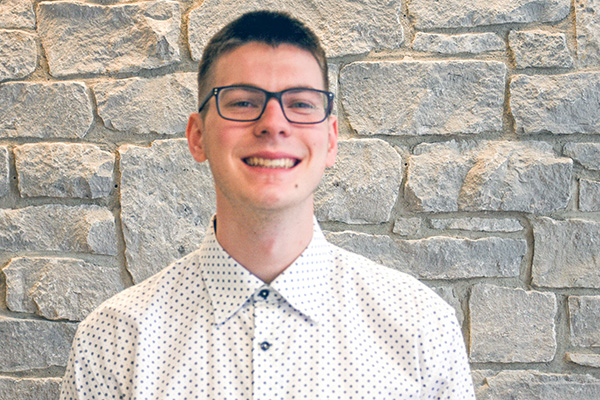 Internship experience is key for Riley Larcom
An internship during Riley Larcom's first year at Bluffton University confirmed his career aspirations and ramped up his pursuit of gaining hands on experience in the workplace.
Larcom '23, an accounting and business administration double major from Pandora, Ohio, completed an accounting internship at Mennonite Memorial Home during the 2019-20 academic year. Now, he's preparing for a second internship at Marathon Petroleum this summer.
"It was a great first experience and after finishing it, I realized that this is a field I can envision myself in," Larcom explained. "I can see myself as an accountant in the future."
At the Bluffton retirement community, Larcom helped with a variety of accounting responsibilities from accounts payable to taxes. While he joked that he was the youngest person in the building by 20-30 years, Larcom appreciated how he was treated with respect.
The experience took him outside of his comfort zone, helped him transition to "the real world," and showed him how much employers appreciate people who are willing to ask questions and follow through in their work.
"I feel like it really opened up my vision of what an internship is and how helpful they are," said Larcom. "It's really huge to have internship experience on your resume, and the people I worked with genuinely wanted to help me learn."
Larcom was connected to Mennonite Memorial Home administrators by Dr. Jason Swartzlander, professor of accounting. The two spoke during Bluffton's bi-annual Presidential Scholarship Competition, and Swartzlander's excitement for providing experiential learning opportunities was a key reason Larcom ultimately chose Bluffton.
"You're in school for four years, but after that you need to get a job. The professors here really prepare you for that," explained Larcom. "They are willing to help you find internships and other opportunities."
As a commuter, Larcom was initially concerned that living at home and not living on campus would prevent him from developing a network at Bluffton. However, he's the treasurer of the Student Investment Club and works as a student assistant for the volleyball team.
"Everyone is friendly and Bluffton feels like home," said Larcom.