Keyon Camden
02/05/2019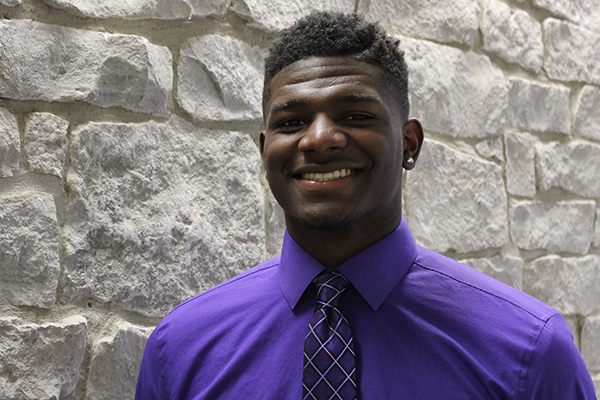 finding his calling helping others
Keyon Camden '19, from Wayne, Ohio, came to Bluffton University as a music major but soon realized his calling was in helping others in a more direct way. Having transitioned to social work, he states that the change has been the best decision he's made in college.
Singing is something that comes naturally to Camden. With that in mind, he came to Bluffton with the aspiration to study music. "My mom always told me to go with whatever was natural, so I came to college thinking singing would be the best fit for me," he said. "It turned out to not be at all."
Unable to read music, as he had always learned by ear and overwhelmed by the history involved in many of the classes, Camden decided to take a step back. "I really had to do a lot of reflecting," said Camden. After talking with my family and friends a lot, they all said the same thing – I was really good at helping people."
Having been adopted and involved with social services growing up, Camden drew a connection between his desire to help others and his own personal experience.
Currently completing his field experience with the Family Resource Center in Findlay, Camden is working with kids from preschool age up to 18. The classes range from education about interactions with others for younger students to substance intervention and risk evaluation for middle school and high school students.
"I never really saw myself doing that, but I'm really enjoying it," he stated. "There are so many different areas of social work," he said. "In the future, I'd like to do something with mental health, the elderly or just kids."
Professors like Dr. Deanna Barthlow-Potkanowicz, assistant professor of psychology, Heidi Mercer, assistant professor of social work, and Shari Ayers, director of the Center for Career and Vocation have been instrumental to Camden's success.
"I would say Deanna and Heidi have been my two biggest advocates, and then Sheri Ayers helped me a lot in deciding my major and deciding what I want to do with the rest of my life," he said."
Along with help from family and friends on the Bluffton University football team, Camden is now secure in his future vocation. He's also been able to continue his passion for music. Last semester Camden took voice lessons with Dr. Crystal Sellers Battle. This semester he's singing in Gospel Choir.
After graduation, Camden plans to pursue his master's degree. But as he finishes his undergraduate career at Bluffton, he reflects that the change was not always an easy one but one he's happy he made.
"I've had a really packed schedule and a lot of stressful nights," Camden explained, "but ultimately it was worth it 100 percent."
Cara Echols '19, Student news writer