Embracing opportunities
01/16/2019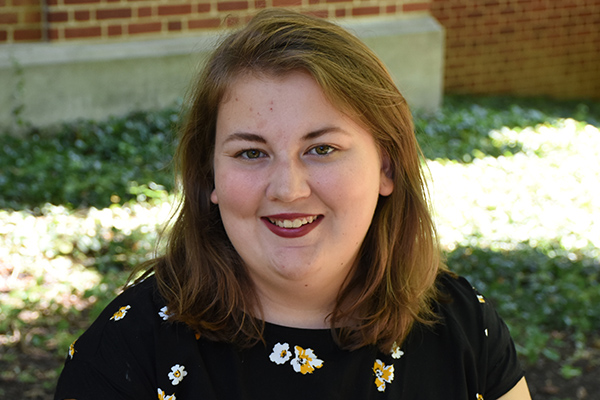 Bluffton University senior learns through experience
Senior Jena O'Brien came to Bluffton University for the academic support and community feel of campus. Now entering her final semester, the Toledo, Ohio, native and public relations major says the opportunities provided by the university have equipped her for both the job market and life in the world.
"I have a learning disability, so having the services I needed to be successful in my education was very important," said O'Brien. "I came to campus and saw the resources and it was very persuasive, but I also had this feeling that I just belonged here and the people were people I wanted to be associated with and the values of the institution really spoke to me."
O'Brien just completed an internship with the American Red Cross of West Central Ohio where she worked on a proposal for a new project management leadership program. Previously, she served as an intern with "The Mennonite" magazine during the Mennonite Church USA convention in Orlando and traveled to Kansas for a communication conference. On campus, O'Brien worked for Bluffton's public relations office for a year and residence life for three years. This year, she's the hall director for Ramseyer Hall, vice president for Student-Alumni Association and a member of the C. Henry Smith Scholars honor society.
"These opportunities have really given me the skills I need to go into the workforce, but with the American Red Cross internship in particular, I was given the opportunity to work on a national campaign," said O'Brien. "Being able to do work for a national organization as a college student was incredible, and I connected with high-level people within the organization."
This semester, O'Brien will focus on completing her honors thesis—a rhetorical analysis of Michigan State University's response to the Larry Nasser scandal. She credits Marathana Prothro, assistant professor of communication, and Gerald Mast, professor of communication, with providing the mentorship that has allowed her to complete this vast undertaking.
"Marathana is my advisor and faculty sponsor for my honors project and her experience as both an academic and professional in the workforce has been very insightful because she's been able to answer questions and provide guidance to make sure I'm doing the best I can," said O'Brien. "Gerald has encouraged me to think beyond what I believed were my abilities and think beyond the undergraduate level."
After graduation, O'Brien plans to work in the public relations field; however, she would like to eventually continue her education and come full circle.
"My long-term goal is to teach and work with students so I can give back for all my professors have given to me."