A summer in DC
10/17/2023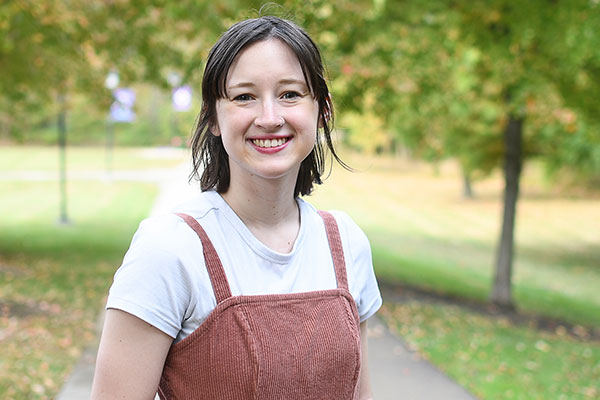 completing an 'eye-opening' internship
Olivia Daugherty '24, a communication and media major from Bradford, Ohio, spent the summer in Washington, D.C., as a Climate Change Ambassador for the Anabaptist Climate Collaborative (ACC).
"A big part of my job was to make policy briefs for the Mennonite Central Committee office, looking at bills, highlighting the most important parts and putting them into-non-government language so the people in my office could have a better idea of what's going on in the U.S. climate front," said Daugherty.
She also routinely met with lobbyist, lawyers and other professionals in the climate change realm and had the opportunity to meet with representatives of Senator John Fetterman's office when climate change activists from Lancaster, Pa., visited to spread the message.
During the internship, Daugherty's focus was on critical minerals – the minerals used to make batteries for things like electric vehicles and solar panels.
"I had no clue what a critical mineral was, and finding out how much the sustainable stuff we are doing is still harmful to our environment was very eye-opening to me," said Daugherty. "The U.S. government doesn't have restrictions on critical mineral mining. The law that we still use is from 1872. It's mind-blowing."
When she first came to Bluffton, Daugherty had planned on spending a semester in Washington, D.C., through the Washington Community Scholars' Center (WCSC). But because she's graduating a year early, it didn't fit in her schedule. However, her room and board were paid through the ACC internship, and she lived in the WCSC house alongside the program participants.
"I grew up in a town of 1,800 and then went to Bluffton which is also small but ended up in D.C. and taking the metro every day," said Daugherty. "If you have the opportunity to do a summer internship out of state, I would so recommend it."
Back on campus, she continues to serve ACC as Bluffton's Campus Climate Ambassador. Daugherty is also program director for the radio station 96.1 The Wit, a resident advisor in Neufeld Hall and vice president of Hall Association.
"I love The Wit. It's my safe place. If I'm stressed out, I go to the radio station and just look at music and organize it," said Daugherty. "I love helping others learn they can talk on the radio. It's not scary. It just takes a little bit to get used to hearing your own voice."
This semester, Daugherty's brother, Logan, joined her on campus. Their dad, Bob Daugherty '98, is also a Beaver.
"Now, we're a little Bluffton family. He never pushed Bluffton on me," said Daugherty. "I took a college visit after campus opened back up in 2020, and I fell in love with it at that moment. I'm so happy with my decision. I've made so many great connections with professors, and I found what my passions are here."
Following graduation, Daugherty is interested in returning to Bluffton to earn her MBA before moving on to law school.
"After I was done with the internship, I emailed a few of the people I worked alongside and thanked them for the experience," said Daugherty. "I got responses back, and they were like 'if you're still interested in environmental law, keep us in mind.'"
---
Core courses provide a foundation in contemporary media studies and in the traditional liberal arts elements of communication.