Building an app
09/22/2023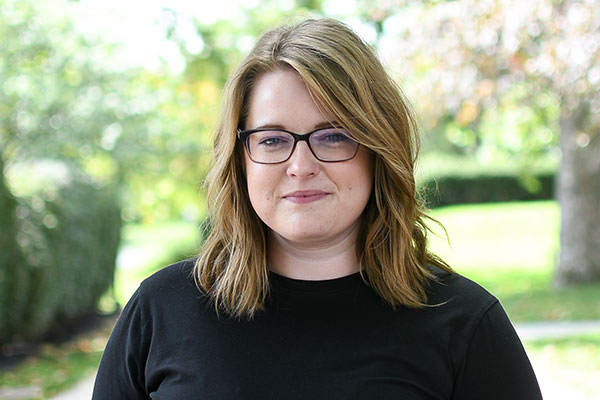 A guide for teens and her daughter
Three years ago, the birth of Katrina Stone's daughter served as a wakeup call for the information technology major and computer science minor at Bluffton University. Following high school, Stone pursued cosmetology but realized when she got on the salon floor, the career was not the right fit. Then, she worked various jobs she was not passionate about.
"It changed my whole perspective on life. I realized I needed to focus and figure out what I wanted to do," said Stone, a non-traditional, commuter student from Cairo, Ohio. "I wanted something close to home, and Bluffton had IT. I'm from the MySpace era, and I've always liked computers."
While many people have told Stone that IT seems like a stressful career, for Stone it has the opposite effect.
"I find it calming, said Stone. It's relaxing to just sit in front of a computer and figure a problem out."
For the past year, Stone has figured out plenty of problems through an internship with Dr. Amy Mullins, director of graduate programs in education. A few years ago, Mullins developed a website called Phonics Innovations: Crack the Code. While there are many phonics resources aimed at helping young children to read, Mullins' research-based resource was developed with teenage students in mind.
Stone initially helped Mullins navigate moving the website's host to a local vendor, but then the vendor shut down before starting work on the transforming the website into an app.
"A lot of people don't use PCs anymore, and many don't have WIFI in their home, so having an app allows more people to use the resources," said Stone.
Familiar with web-based programming languages such as Python, HTML and CSS, Stone learned new languages including SWIFT and developed the app herself.
"There was one point where I wasn't sure if I was going to be able to do it," said Stone. "I messaged Dr. Mullins and she was like, 'No, we have this.' That gave me the confidence to continue."
In addition to the internship, Stone is gaining skills and building her resume as the web assistant in Bluffton's Public Relations Office.
"Honestly, when I was told about the job, I thought I guess I'll try it out to see if it's something I want to do in the future," said Stone. "But I really like it."
While she's not sure of the exact path she wants to pursue following graduation, Stone's determination is already setting an example for her child.
"My daughter is three, and she just started preschool, so it can be rough for both of us being in school," said Stone. "But I've brought her to campus a few times, and she loves it. She wants to go in all of the buildings."