Then to find a major
08/02/2023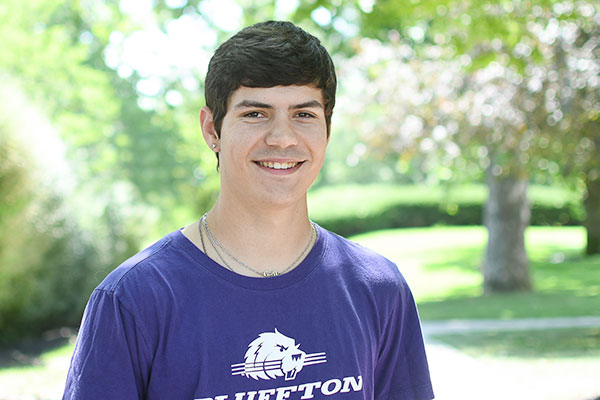 Ready to contribute to society
Choosing a college was easy for Carter Ritchey '25, a communication and media major from Delphos, Ohio.
"I set up a visit and before I even talked to anyone on campus, it just felt like home," explained Ritchey. "As soon as I got out of the parking lot, I was like 'this is it.'"
Choosing a major was a different story. Ritchey pursued education, business administration, sport management, English and social work before finding his fit in communication and media. He chose a concentration in sports media with the goal of becoming a sports broadcaster.
"You want to find something you are passionate about and something where you can contribute to society," explained Ritchey. "It's tough to tell a 17 or 18-year-old to go figure out their life. I've been with communication for a full year, and I've really enjoyed it."
He's also gaining experience in his field. During the winter athletics season, he broadcasted Bluffton basketball games alongside Evan Skilliter '14, assistant professor of sport management. This summer, Skilliter helped him land a job at Bluffton Family Recreation where he works reception and serves as an umpire for the adult softball league. As an ump, he's gained a new perspective on sports.
"You have to stand your ground and have confidence in your calls," said Ritchey. "I was overly competitive in high school, and now I'm on the other side."
A member of Bluffton's track and field team, Ritchey currently competes in discus and javelin. In addition to athletics, Ritchey is a resident advisor and President's Ambassador. He also plays intramural basketball and sand volleyball and is excited to join Marbeck Activities Council.
"At Bluffton, you have the opportunity to try different things," said Ritchey. "And with Bluffton being a smaller campus, you get to know people by name."
This fall, he also plans to spend time in the Center for Career and Vocation to find and prepare for an internship experience.
"I never really planned to go to college and get a degree, and now I'm looking forward to graduating and pursuing my master's."
---
Core courses provide a foundation in contemporary media studies and in the traditional liberal arts elements of communication.