Marketing success
04/05/2023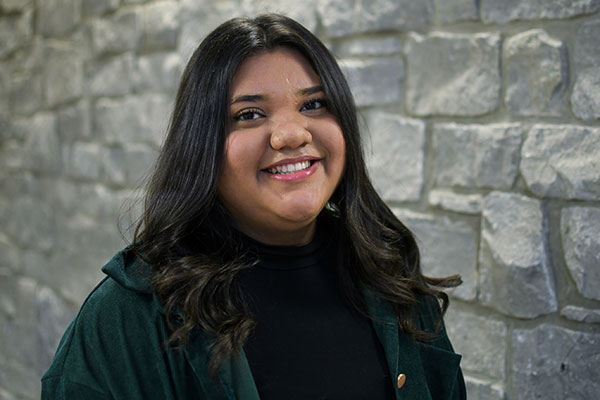 Internships confirm career path
Andrea Peralta Morales '23, an international student from Tegucigalpa, Honduras, grew up following in her dad's footsteps. From a young age, she was interested in her family's business and was shown the way products and their presentation influenced customers. And during the pandemic, she worked hard to ensure her family's business remained successful despite the added difficulties.
Today, Peralta Morales' business administration and marketing majors are an extension of that work. During her senior year, she gained additional experience through two internships.
"These marketing internships have helped me open my mind to see that marketing is what I want to focus on," said Peralta Morales.
During the fall 2022 semester, Peralta Morales worked with Influence Tee, a company that focuses on helping athletes build their own brand and create merchandise. She managed accounts, created social media content for the company and recruited prospective clients.
In November, she took on a second internship, also in marketing, with Mennonite Home Communities of Ohio. She currently helps manage their social media accounts and assists during tours with potential clients.
Influence Tee was a remote internship; however, with Mennonite Home Communities being in Bluffton, Peralta Morales has been able to learn in a more hands-on way. She shadows her supervisor in often business meetings. The in-person work has allowed her to feel more like an employee and less like an intern.
After graduation, Peralta Morales plans to take advantage of Optional Practical Training. The program allows international students to work in the United States for a year following graduation to gain additional experience and skills. She already has received three job offers. Eventually, she would like to pursue a master's degree in either business administration or marketing.
Though she's graduating soon, Peralta Morales came to Bluffton for the small community feeling and one-on-one attention from faculty.
"They all know my name, where I come from, what are my goals and my struggles, but they also know my successes," said Peralta Morales. "That's why I like Bluffton so much."
She especially appreciates the help of Dr. Jonathan Andreas, professor of economics, who has mentored her to be successful in her studies.
---
Many marketing students supplement their coursework through volunteerism, internships and practicums.