Senior and professor collaborate on research
06/20/2019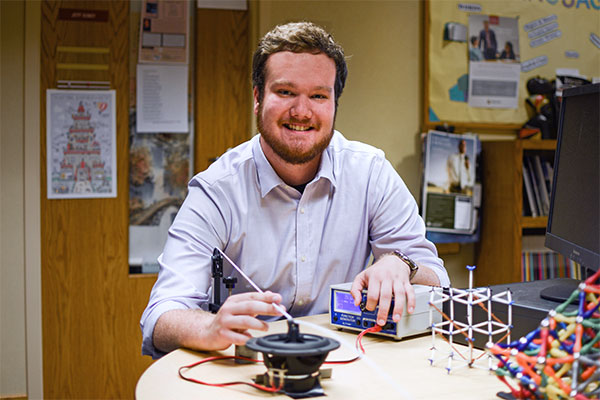 senior and professor collaborate on NSF supported research
Ryan Oostland '20, a mathematics major and computer science minor from Goshen, Ind., spent a summer collaborating with Dr. Stephen Harnish, professor of mathematics, on a research project through the XSEDE EMPOWER Program. The program's acronym stands for Extreme Science and Engineering Discovery Environment and is supported by the National Science Foundation.
"I've always found higher-level physics ideas to be intriguing," explained Oostland. "I'm working with supercomputers, and I'm writing software on them. It's good practice I will be able to apply to other areas in the future."
While the research is complicated, Oostland and Harnish received grant funding to study defects in grids of molecules. The research has practical applications in the field of engineering as well as theoretical applications in quantum mechanics.
"I'm running simulations using LAMMPS software, a molecular dynamics simulator, and I have access to the Blue Waters supercomputer in Illinois and the OSC supercomputer in Ohio," said Oostland. "Being able to run simulations on the supercomputers is much faster."
While the work isn't exactly what he wants to do in the future, the grant is a great resume builder, and Oostland is enjoying the challenge. He's still researching his options following graduation; however, Oostland is interested in software development and is considering a master's in computer science or a related field.
Oostland transferred to Bluffton after earning his associate's degree at Hesston College where he studied computer science. Because of a partnership between Hesston and Bluffton, all of his general education classes easily transferred. At Bluffton, he's mainly focusing on his major classes.
"I'm really liking that. I'm able to take a lot of fun math classes like Differential Equations, Operations Research and Advanced Geometry and computer science classes like Digital Electronics and Database Systems," said Oostland. "I'm getting into the nitty gritty."
A graduate of Bethany Christian Schools in Goshen, Oostland originally planned to attend a larger state school instead of a Mennonite college or university, but he ultimately decided the personalized feel of Hesston and Bluffton were better suited to meet his needs.
"I really appreciate that the Mennonite schools have strong communities and deliberate community building on campus," said Oostland. "And the small student-to-faculty ratio is really nice."