Student of the year
05/07/2019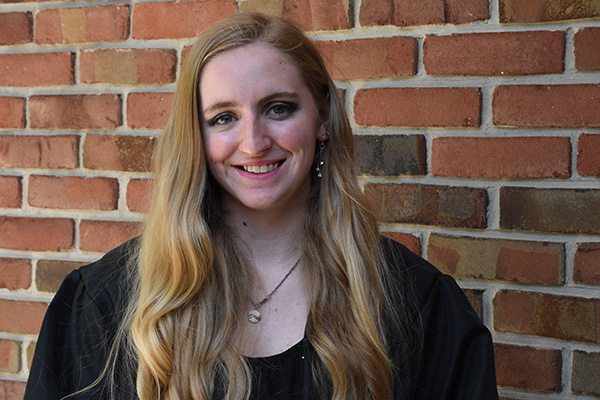 Double major named student of the year
Melanie Moon, a Bluffton University double major in criminal justice and social work, recently received the Outstanding Undergraduate Criminal Justice Student Award from the Ohio Council of Criminal Justice Education for 2019. The award was presented to the Bellefontaine, Ohio, native at the 17th Annual OCCJE Spring Research Conference.
Nominated by Michael Barrett, assistant professor of criminal justice, Moon said she was "not expecting the extra recognition."
However, she has put in the extra work. Moon spent January through April of this year at Soteria House, a domestic violence shelter in Logan County, Ohio, working directly with abuse victims during her field experience.
"I think it was helpful having both majors because with domestic violence criminal justice meets social work daily," explained Moon, of Bellefontaine, Ohio. "I had a better understanding of how the two areas work together and collaborate."
Moon came to Bluffton as a first generation college student unsure of what she wanted to study, but she was intrigued by the idea of criminal justice. After a year on campus, she added social work at the urging of Dr. Walt Paquin, director of social work.
"I've just always been someone who's wanted to be there for people," she explained. "It's always been a part of me."
At Soteria House, she saw first-hand how social service agencies can, "take someone in and help them get back on their feet so they can move on with the next step of their lives."
While she sat in on some counseling sessions and shadowed case managers, Moon most enjoyed working with the legal advocate, who worked closely with domestic violence victims to obtain civil protection orders or who are going through the court proceedings.
"Going to court was so interesting. I learned a lot of things about the legal system and how it works," explained Moon. "It was an eye opening experience."
Now a graduate, Moon added that the personal connections formed with professors including Paquin and Barrett as well as Dr. Deanna Barthlow-Potkanowicz, assistant professor of psychology, and Heidi Mercer, assistant professor of social work, are what she'll most take away from Bluffton.
"Despite graduating, I know I can come back and talk to my professors anytime," said Moon.