Paid internship to job offer
12/20/2022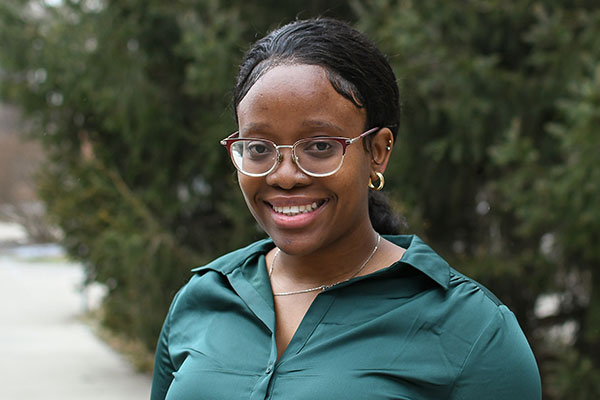 Long-term internship provides marketing experience
For Theri Phetlhu, a December 2022 Bluffton University graduate, a marketing internship with Toledo software company Double A Solutions provided an opportunity to develop her skills and become more confident in the workforce.
"In addition to the work I was doing for the company, I gained a lot of valuable skills in areas such as communication, problem solving and time management—especially because it was part-time," said Phetlhu, a marketing and economics double major from Gabarone, Botswana. "Working in a fast-paced environment taught me the importance of prioritizing tasks and meeting deadlines."
Phetlhu landed the paid position through networking and started in June of 2022. She enjoyed the experience so much, she continued at the company through the fall 2022 semester and earned internship credit toward her majors. While the experience was mostly remote, Phetlhu met many of her coworkers when she traveled to Toledo for special work events. Her position mainly consisted of research—from marketing to customer support to competitor analysis.
"I think because it's a smallish to medium-sized company it was really nice to see the ideas that I presented grow and come into a reality," said Phetlhu. "That was the most fun part about the internship."
Now finished with classes, Phetlhu has applied for Optional Practical Training, which allows international students to work in the United States for a year following graduation to gain additional experience and skills. She plans to continue working for Double A Solutions.
"Being an international student, there is so much uncertainty," said Phetlhu, of graduating. "But I'm taking it one day at a time. It's scary but I'm looking forward to it."
On campus, Phetlhu says she was supported by friends and her advisor, Dr. Jonathan Andreas, professor of economics.
"He was very helpful in terms of encouragement," said Phetlhu.
She was a member of Student Senate, helped with International Connection and served as a student engagement advocate. Phetlhu also worked in The Commons.