World Series experience
11/19/2019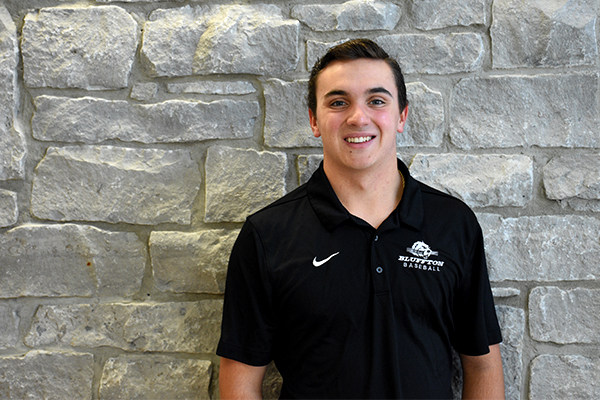 Bluffton student gains athletic and service experience at World Series
Milan Schilling '23 got the experience of a lifetime when the Reds Youth Academy Member of the Year earned two tickets to game four of the World Series in Washington D.C. According to Major League Baseball, "Youth of the Year" is awarded to an academy member who has had a positive year on and off the field, has overcome challenges in their life or has made a positive impact in their community.
Schilling, of Cincinnati, Ohio, has played for the Reds' academy for four years and has been training there for seven years.
"What I usually would work on would be advanced training," Schilling said. "That consists of infield drills, catching, hitting, strength and conditioning, speed and agility, and acceleration training."
At the game, Schilling had the chance to go on the field for batting practice and sit behind home plate, where players would give him baseball tips. Justin Verlander, a pitcher for the Houston Astros, showed him how he does his changeup grip.
"Getting to learn and see how the players prepare for games was really cool because it gave us another trick to learn and bring to our own game," Schilling said.
Schilling, along with the other Players of the Year, also used the trip as a service opportunity. They traveled to Fort Belvoir, a military base about an hour away from Washington D.C., where they helped teach baseball/softball to kids in military families.
"Getting to see those kids' faces as they walked up to see us was amazing," Schilling said. "All we saw was pure joy, and it was a great way to give back and provide that service to those military families."
Baseball also played an important role in getting Schilling to Bluffton.
"When I first showed up here, I really liked Coach Grandey, Coach Beerman and Coach Prince. Out of all the coaches I talked to within my process of finding a college, they were definitely the best. Campus was beautiful, and I felt very welcomed here," Schilling said.
While at Bluffton, the business administration and sport management double major is working to further develop his future career path, ideally in the realm of baseball. He feels as though the support of his professors at Bluffton will help him.
"I really love my professors. Going to a small school is just amazing in that regard," Schilling said. "I try to peek into my professors' offices and just strike up conversation with them and build a connection with them. That really means a lot to me."