Developing career skills
11/06/2019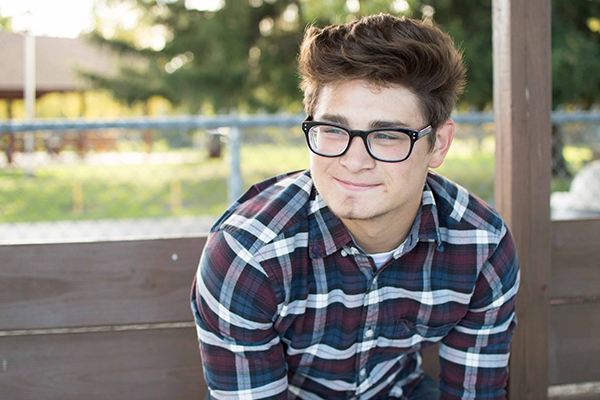 junior develops career skills through classes and student organizations
Trent Mast '21, a convergent media major from Southington, Ohio, was originally drawn to Bluffton University to continue his soccer career while also preparing for a career in sports. Once here, Marathana Prothro, assistant professor of communication, helped Mast gain a clearer vision for his future career path.
"When I got here, I didn't even know what convergent media was," Mast said. "I learned so much so fast. Now, my big picture goal is to have either a halftime show, like on ESPN, or develop my own blog that follows high school or college sports."
Unlike a major in journalism, broadcasting or public relations, a major in convergent media prepares students for the constant change in media platforms. According to Mast, learning about all approaches to media—from video to social media to podcasts, is a strength of the program.
"Because the communication department is a smaller department, the professors work closely with you and push you as an individual," Mast said. "For example, Marathana is always pushing me and encouraging me do things that sometimes takes me outside of my comfort zone for the sake of making me a better writer or better at what I do in the future."
In addition to working as a resident advisor and playing on the men's soccer team, Mast is a convergent journalist for "The Wit," Bluffton's student media organization. Mast writes stories, is on a sports radio show called "The Beaver Dam" and calls basketball games. He also developed a radio show with Colten McCabe '21, "T&C on Sundays."
"I think being on the staff of 'The Wit' has helped me because it's allowed me to use the things that I've learned in my classes and put them into real-life situations," Mast said.
Mast said many of his classes overlap with the work he does with The Wit, including a Performance Studies class he took with Melissa Friesen, professor of theatre and communication.
"Performance Studies was a class I wouldn't have thought about needing, but I think it helped me improve a lot on the radio," Mast said. "Melissa taught me how to use my voice better. Now, I'm not so monotone and I express myself better because of that class."
Overall, Mast believes Bluffton has been instrumental in helping shape him as a person, beyond just his career path.
"I think Bluffton has made me into a person I don't think I would have been if I went to a bigger school. Bluffton gave me the opportunity to become the person I want to be," Mast said. "I'm able to grow and be my own person here."