Research for Midwestern
10/30/2019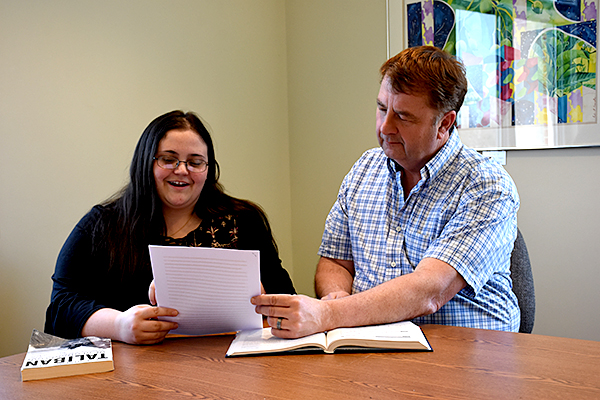 senior presents research for Midwestern Criminal Justice Association
Heather McConnaughey '20, a criminal justice and sociology double major from Pioneer, Ohio, recently presented her research "Why Reading Matters for Juvenile Offenders: The Relationship Between Literacy and Recidivism" at the Midwestern Criminal Justice Association's annual meeting in Chicago. Encouraged by Michael Barrett, assistant professor of criminal justice, McConnaughey's research stemmed from a seminar class taken during her junior year.
"I presented with a panel of professors and professionals with their doctorates," McConnaughey said. "I thought it went really well. They thought I was in a master's program, which boosted my confidence."
McConnaughey has direct knowledge of the subject matter. She recently served as a reading mentor at the Allen County Juvenile Detention Center and completed an internship with Allen County Juvenile Court. This semester, she is interning with both the adult and juvenile probation offices in Putnam County.
"I shadow the employees and learn what they do. I sit in on hearings and go to arraignments," McConnaughey said. "I've also gone to negotiations for plea deals with both the prosecution and defense.
McConnaughey believes sociology and criminal justice go hand in hand, and she's enjoys learning through the lens of each field, making the pair a good option for a double major.
"With sociology, you're able to look at things from a different angle than you would from a strict criminal justice perspective," McConnaughey said. "Sociology is looking at how people relate to other people. When you really dig deep, there's usually a reason why people commit the crimes they do."
McConnaughey's goal is to use the knowledge gained at Bluffton to work in the field of juvenile probation. She knew Bluffton would help her achieve her goals after meeting an admissions counselor at an academic fair before she even entered high school.
"I decided in 8th grade that I would come to Bluffton," McConnaughey said. "Then, when I visited my senior year of high school, I sat in on a class and I knew I had to take a class with that professor. I decided then that I would put down the down payment."
As a student, McConnaughey cites the relationships developed at Bluffton as one of the best parts of the college experience.
"Bluffton has this saying, 'It's all about relationships,' and it's absolutely true. I know if I ever need anything, all I have to do is ask and my professors will help me in any way they can."