Using numbers
10/26/2022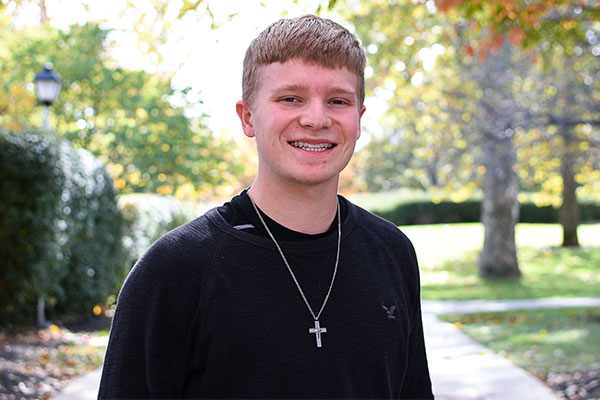 Bluffton's Michael Stammen gains professional accounting experience
Numbers are something Bluffton University student Michael Stammen '24 has always been good at. The business administration and accounting major from Versailles, Ohio, took them on professionally during a paid internship at SumiRiko Ohio, Inc. located in Bluffton.
During summer 2022, Stammen worked 40 hours a week taking payments from customers and applying those payments into their system. He also worked with high-profile clients such as Ford to ensure accounting accuracy.
"I learned a lot about the business environment," said Stammen. "Past summers I have worked on the floor of the factory. This summer, I was able to put what I have learned in the classroom to use."
Stammen received the position after reaching out to Dr. Jason Swartzlander, professor of accounting, about internship opportunities. Swartzlander helped set up the interview.
"I thought going into it there would be a steep learning curve, but I was pretty prepared," said Stammen.
Stammen credited the intermediate accounting classes he took in spring 2022 for providing a deep dive into the principles of accounting.
"Those are probably the hardest classes within the major," said Stammen. "Some would say that those are the fall-out classes. But in those classes, you learn everything."
This was Stammen's second internship. He previously earned credit for a spring 2022 internship with Hellman Nomina CPA in Delphos. This fall, he has continued with the SumiRiko experience in a part-time role.
"I enjoyed doing the internship because it showed me exactly what I want to do in the future," said Stammen.
Outside of class, Stammen is a point guard on the men's basketball team and is excited for the season to begin.
"We have a lot of guys returning and have some promising new guys who could provide valuable minutes for us," said Stammen. "We put a lot of work in during the off-season and are looking forward to seeing it pay off."
A junior, Stammen has the flexibility in his schedule to graduate early, but he's also contemplating continuing at Bluffton to earn his MBA.
"I like the small campus feel," said Stammen. "Coming from Versailles I only graduated with about 100 people, so knowing everyone here feels a lot like home."