Sports broadcasting
09/29/2023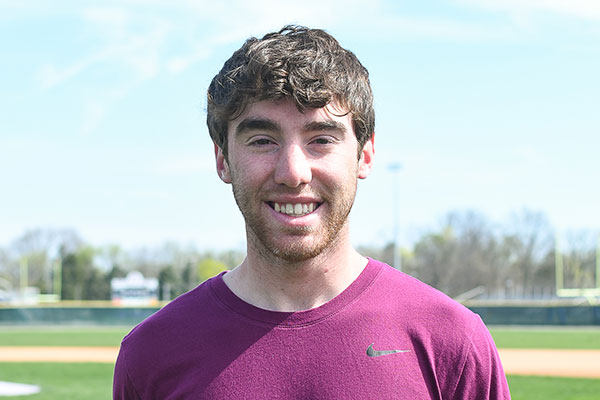 Experience on and off the field
When Andrew Collinsworth '25, a communication and media major from Westerville, Ohio, thinks about his future, his dream goal is calling the game in the World Series. Watching sports is something he's enjoyed doing from a young age, and Collinsworth has always been good at finding the right words.
"When I was a kid, I would just sit there and say something and then the broadcaster would say the exact same thing right after I said it," explained Collinsworth. "I've just always felt like broadcasting would be something I could do while being a fun way to stay involved in sports."
Collinsworth is gaining experience toward his goal at Bluffton University through his sports media concentration. With help from Evan Skilliter, assistant professor of sport management, he's learned to call the play-by-play and provide color commentary for both football and men's and women's basketball games. He's also gained familiarity in the radio broadcast booth and has dabbled in sports writing and journalism.
"It came down to a couple of schools when I was being recruited for baseball," said Collinsworth of his college decision. "I decided to go with the place that had the best academic fit for me. At Bluffton, there seemed like there were good opportunities to get hands on experience right away."
Collinsworth is further building his resume as a student assistant in Bluffton's public relations office. There, he develops social media content and creates visuals such as game-day graphics.
"I've had such as wide variety of experience at Bluffton—being in the radio station and doing voice tracking, getting familiar with live sports broadcasting and interviewing coaches," said Collinsworth. "Initially, I didn't know if I wanted to go into sport management or communication and media, and I'm happy with my choice. It suites me and what I want to do in my career."
In the classroom, Collinsworth has also enjoyed a variety of educational experiences from Social Media and Public Relations classes with Marathana Prothro to Studies in Cinema with Dr. Zachary Walton. This semester, he's been pleasantly surprised by Communication Theory, taught by his academic advisor Dr. Gerald Mast.
"I was not overly excited for this class, but it's been really interesting," said Collinsworth. "We've been learning about Socrates, Plato and Aristotle – all of the philosophers."
On the field, Collinsworth is a pitcher for Beavers Baseball. He likes the competition, but the best part of being a student-athlete is having a second family on campus.
"It's a great environment," said Collinsworth. "The practices can be long. The games can be long, but when you're with your team, it doesn't seem long."
It's also teaching Collinsworth lessons he'll take beyond college – leadership, collaboration, and performing in high-pressure situations.
"It can be stressful, but there's a saying that if you're not applying pressure, you're the one feeling it," said Collinsworth. "So, you always have to be the one to apply the pressure. That's my attitude."
---
Core courses provide a foundation in contemporary media studies and in the traditional liberal arts elements of communication.