Experience led growth
09/25/2019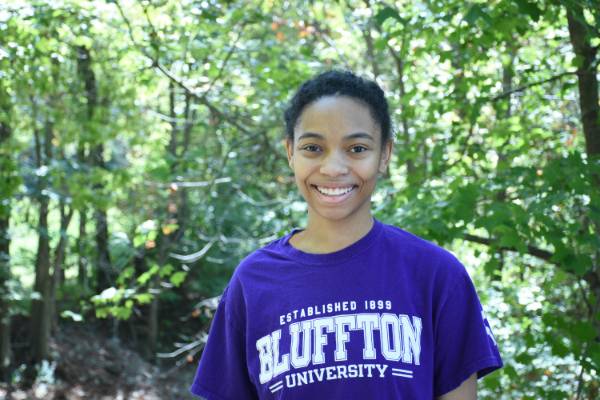 Washington, D.C., experience allows Bluffton student to 'grow as a person'
Spending the summer in Washington D.C., allowed Bluffton University student, Ginesha Robinson '21 of Ft. Wayne Ind., to experience big-city life, gain internship credit and grow as a person.
Robinson, a pre-med and biology double major who plans to be an anesthesiologist, interned at L'Arche of Greater Washington, D.C. The organization is centered around four communal homes and the people who live in them. The residents, who have intellectual disabilities, are known as core people.
"They welcomed me into their community with open arms. At first, I resisted because I knew I wasn't going to be there for very long and many of the assistants have been there for years," said Robinson. "I learned a lot, and I really enjoyed my time there."
Robinson's duties included administrative work but mainly revolved around spending time with the core people, from reading with them to walking with them to and from work.
In addition to the internship, Robinson participated in the Washington Community Scholars' Center, a program run by Eastern Mennonite University but open to Bluffton students. Participants live in a house with other WCSC students and take weekly classes together. In D.C., Robinson had the opportunity to explore some of the lesser known parts of the city, enjoyed eating at mom and pop diners and became adept at using public transportation.
"I learned a lot about myself which was the best part. In D.C. I had to handle a lot of things on my own. I had to make sure I was on top of my schedule, and it was good preparation for the future," said Robinson. "With that many people in a house, learning to handle conflict and how to talk to people face to face was also important."
A self-proclaimed introvert, both going to college and spending the semester hours from home, helped her overcome her natural shyness.
"I'm always going to be an introvert, but I can speak up for myself. I am outgoing when I need to be, and I'm better at making connections," explained Robinson.
Utilizing those skills back on campus, she's trying out some new student organizations. This semester, Robinson is co-hosting a morning show on The Wit, Bluffton's campus radio station. She's also a member of both the Multicultural Student Organization and Brave Spaces.
"It's all outside of my comfort zone, but I really enjoy it," Robinson said. "I'm having more fun than I thought I would. I have an intense science load this year with 17 credit hours, but it's good to relax after class, and I need a break from that every now and then."
While she's exploring more facets of campus life, Robinson continues to appreciate the community atmosphere which drew her to Bluffton.
"I like talking to my teachers and my teachers knowing who I am," Robinson said. "I really enjoy that they care about my education, and they're here to help me."