Aspiring lawyer
09/17/2019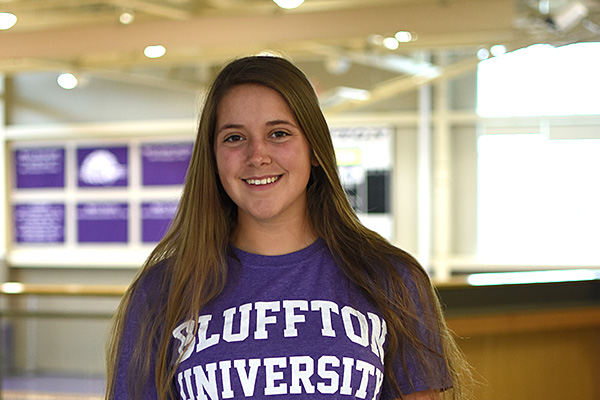 Aspiring lawyer and Bluffton University student interned on death penalty cases
Sienna Sullivan '21, a criminal justice major, spent her summer in the Ohio Public Defender's Office interning with the Criminal Investigation and Mitigation specialist team for death penalty cases.
The Columbus, Ohio, native served as a fact finder for the criminal investigation side of the internship and found character witnesses for the mitigation side of the internship.
"Since we worked with death penalty cases, or capital crimes, we did a lot of mitigation post-conviction," Sullivan said. "After the defendants were found guilty of a crime and were sentenced to the death penalty, we would go back into their lives and interview their family members, their friends, and even the defendants to try to understand why they committed the crime."
With the opportunity to work on her own cases, she felt like she was already employed. This summer gave her a glimpse into her future as she talked to people by phone, sought records and visited clients in court and prison.
"I want to be a lawyer. This internship helped me because when you're an attorney, you have a criminal investigation and mitigation team, so working for that team already made me understand and value what they do a lot, because I've done it," Sullivan said. "This internship is going to help me when I'm an attorney better appreciate my team."
Sullivan felt as though the classes she took at Bluffton helped her succeed during the internship.
"Bluffton definitely prepared me. I was able to sit in the court room and understand all of the terms and legal conversations that were going on," Sullivan said. "I was able to ask the right questions and to get the right answers because of several classes that I've taken at Bluffton."
Sullivan found the internship with the help of Michael Barrett, assistant professor of criminal justice. The close ties between faculty and students drew Sullivan, who is also a goalkeeper on the women's soccer team, to Bluffton.
"I came to Bluffton, of course for soccer, but the community is what really brought me in," Sullivan said. "I really love how welcoming and friendly and loving everyone is here, and the professors just add on top of that. They truly get to know you and your passions and want to see you succeed, and I think that's really cool."
Now in her third year at Bluffton, Sullivan is thankful for the relationships she's built on campus, through both her major and her sport. She is also excited to continue her education next semester in Washington, D.C. at the Washington Community Scholars' Center where she will complete a second internship.
"I think it's really cool that everyone here wants to help with my specific goals and not just push me through college with a degree," Sullivan said.
-Aubrey Bartel, public relations student assistant