Sports and business
09/11/2019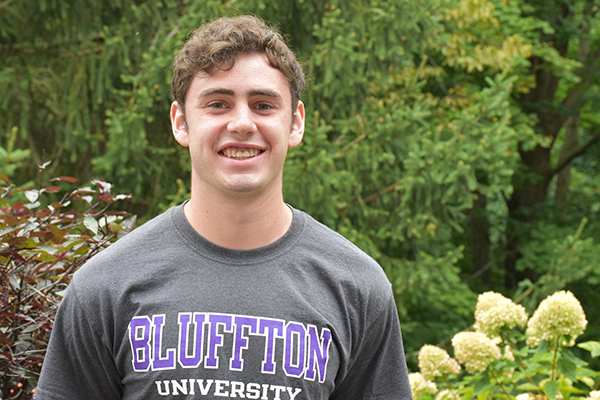 Bluffton University junior spends summer interning with USA Football
Patrick Spillman '21, a business administration and sports management double major from Anderson, Ind., went into his summer internship with USA Football thinking it would just be a way to complete a requirement for his major at Bluffton University. In reality, the paid internship taught him valuable skills and confirmed his future career path.
"I definitely feel like I'm pursuing the correct degree for what I want to do," Spillman said. "I feel like the business administration and sport management majors pair really well together since I want to work on the business side of the sports world. It solidified that I am on the right track, and I'm thankful for the requirement."
USA Football is the national governing body for amateur American football in the United States. Based in Indianapolis, the organization hosts training events, educational programs for coaches and game officials, and skill development for young players.
Spillman primarily helped coaches become certified in different aspects of coaching, such as correctly fitting equipment and teaching proper tackling techniques. He also traveled to Memphis, Tenn., and Charleston, S.C., to help with registration for coaching clinics. He credits the classes and experiences at Bluffton for helping him succeed in the internship.
"A lot of my business classes and sports ethics and sports communication classes definitely helped," Spillman said. "How to properly communicate, whether that's through email or speaking with people, as well as just understanding business etiquette in the workplace, were skills that helped me."
At first unsure of interning in a big city while also serving as the youngest intern on the team, Spillman found community at USA Football.
"Being able to talk with the other interns, and listen to them share their past experiences, really helped me understand my role," Spillman said.
Spillman also found community at Bluffton, where he came to play soccer while also being drawn to the small-town environment.
"I love the community. I like being on a small campus," Spillman said. "I graduated from high school with only 99 kids, so being on a campus and knowing everyone, including my professors, has been instrumental to my experience here. I walk into my professors' offices, and I know 100 percent that they're going to help me with whatever problem I have. It feels like home."
-Aubrey Bartel, public relations student assistant