Gaining confidence
09/08/2023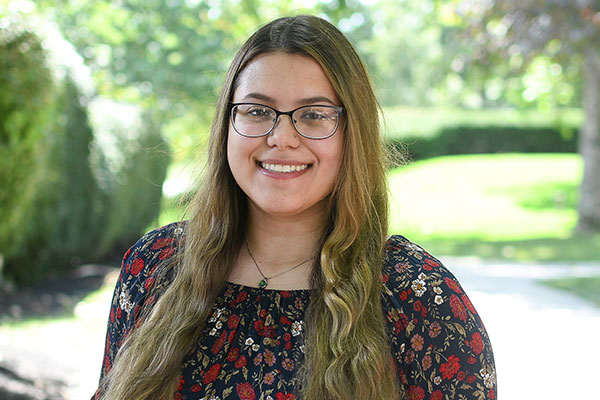 stepping out of her comfort zone
Sydney Trevino '25, a psychology and criminal justice double major, chose her educational pursuits because of the devastation of substance use in her hometown of Springfield, Ohio, and within her family.
"It hits home when we talk about drug abuse in class," explained Trevino. "I want to help people who may not be able to pursue help by themselves or who don't have support systems through family or friends."
She's particularly interested in working with vulnerable populations including youth, the elderly and immigrants. Her ultimate goal is earning a PSYD (Doctor of Psychology) degree.
In class, Trevino's had her "eyes opened" during tours of the Allen County Juvenile Detention Center and Allen Oakwood Correctional Facility. While she's more interested in pursuing psychology as a career, Trevino believes criminal justice classes like Family Violence and Intro to Juvenile Justice will complement her future work.
"People with drug addiction often find themselves in the criminal justice system, so having educational background in criminal justice as well as psychology will help me to help them," said Trevino.
This semester, she's looking forward to gaining additional experience in her interviewing class with Kelley VanGilder, visiting assistant professor of social work.
"I'm introverted so I hope it helps me get out of my comfort zone," said Trevino. "I'm learning about more formal ways of leading a conversation. Like, I'm in charge and I'm the leader of where the conversation goes, so it's building my confidence toward what I really want to do someday."
While she describes herself as an introvert, Trevino explained her involvement in Multicultural Student Organization (MSO) and International Connection (ICon) is helping her branch out.
"With MSO and ICON both, I'm exposing myself to different people from all different walks of life," said Trevino. "Bluffton's a really small campus, but wherever you go, you can find someone with a different background from you. Whether that be where they're from, their family background, whatever."
Trevino also works on campus in Freshëns and as the student assistant for Dr. Christopher Morrissey, assistant professor of sociology.
"I might be biased because I work for him, but I really like that he's always taken an interest in what I plan to pursue and the next steps I need to take," said Trevino, who described Morrissey as a mentor.
While she was initially drawn to Bluffton because of financial aid, her choice in Bluffton "all worked out."
"I put my deposit down blindly and visited after, but I ended up loving the campus," said Trevino. "It's just a welcoming atmosphere – whether it's from faculty, staff, students, everyone is friendly."