Junior ready to lead
08/29/2019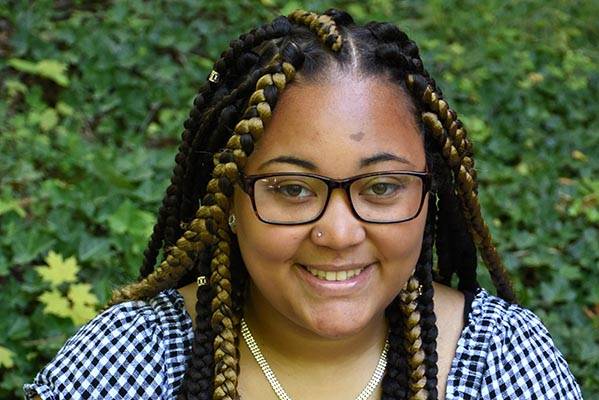 As the oldest of six children, Amryn Dover '21 knew from an early age she wanted to work with kids. The Columbus, Ohio, native originally planned to be a pediatrician and then decided to try early childhood education, but she eventually found her perfect career path as a child development major at Bluffton University. She's also pursuing a minor in business administration with the goal of developing and owning her own daycare/preschool.
"Being the oldest child, I watched my siblings grow," said Dover. "It really influenced me to pursue this major. I always loved helping them learn new things."
Dover's ultimate dream is to open a facility that brings together neurotypical children with children on the Autism spectrum. The aspiration is influenced by her high school education at Oakstone Academy, a pre-k through 12 school in Columbus dedicated to seamlessly educating children with and without Autism. This goal has been reinforced through her favorite class at Bluffton, Introduction to Education of Students with Mild and Moderate Educational Needs taught by Timothy Byers, assistant professor of education.
"In the first two weeks we had already learned so much about disabilities, depression, ADHD, all of it," Dover said. "It was a really great class to explore new ideas, and we did a lot of hands-on projects so it really helped us visualize how to transition these idea into the classroom."
Over the last two summers, she has used the skills while working in daycare facilities in Columbus.
Outside of her major, Dover is excited to start the academic year as Bluffton's student senate president. Dover originally joined student senate at the urging of a friend and has appreciated the organization's focus on caused-based issues as well as fun activities.
"I hope we get a lot accomplished," said Dover. "My first year we held events on LGBTQ inclusion and last year on Black Lives Matter. This year, we're planning on focusing on mental health."
Dover said Bluffton was initially her second choice, but after visiting both schools, she realized Bluffton was the right fit.
"The second I stepped foot on campus, everybody was super friendly. I fell in love with campus, so when I was accepted, it automatically became my first choice."