Klinger gains experience
08/18/2022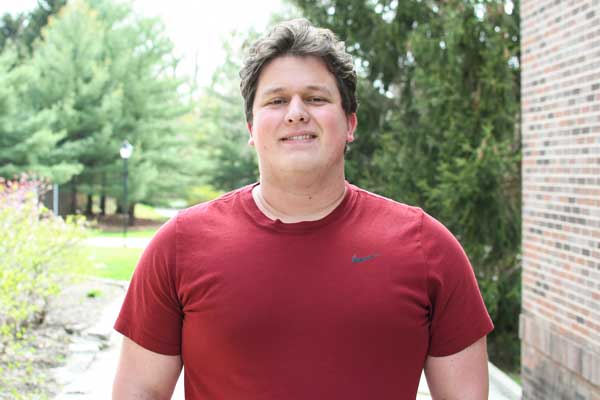 Bluffton University's Grant Klinger gains experience in medical laboratory science
This summer, Grant Klinger '25, a medical laboratory science major from Bluffton, Ohio, confirmed his career goals and gained hands-on experience in his field. Klinger worked full-time as a laboratory processor at Blanchard Valley Health System in Findlay, Ohio.
"Processing is not a super glorious job but being in the lab and seeing what the techs do is awesome," said Klinger. "It's been really nice to have reassurance that I'm definitely in the right area."
While he won't be able to run tests on his own until he's fully certified, Klinger was able to interact with medical laboratory technicians on slow days.
"If they had down time, they would show me the tests they were running and explain why they would run it or discuss the differences between chemistry and hematology," said Klinger, of the various part of the lab. "There's crossover with some tests, and they go both places. Getting to experience microbiology and plating was also awesome to see."
Introduced two years ago, medical laboratory science (MLS) is one of Bluffton's newer majors. The degree prepares students for a career as a scientist who conducts and reads medical tests in hematology, microbiology, immunology and more. In their final year, students like Klinger, take part in coursework through the West Central Ohio Medical Laboratory Science (WCOMLS) Program administered by Ohio Northern University while remaining students at Bluffton University. The WCOMLS program is the only program accredited by the National Accrediting Agency of Clinical Laboratory Sciences run by a private college in Ohio.
Entering his sophomore year of classes, Klinger plans to "hit the ground running."
"It's my OChem [organic chemistry] year," said Klinger. "It's tough for everyone, but I think I've prepared myself enough."
One way Klinger has prepared is by taking advantage of student-run study tables at the Learning Resource Center. The study sessions improved his critical thinking skills and prepared him for homework and exams in anatomy and physiology, taught by Sarah Lehman, assistant professor of biology, and inorganic chemistry, taught by Dr. Charles Daws, professor of chemistry.
"Professor Lehman was so great with sharing anecdotes and helping us in the lab," said Klinger. "Professor Daws cracked me up all the time. His class was a little harder, but both are really great professors."
During the fall 2022 semester, he plans to continue working at Blanchard Valley and get more involved in Bluffton's Science Club. He's also involved in Bluffton's tennis club.
A lifelong resident of the Village of Bluffton, Klinger chose his hometown university because the campus community was "the right fit."
"I had a lot of really good options, but I felt like Bluffton was the best one."