Hannah Conklin '20
08/15/17
Sophomore takes skills learned in the classroom into the workplace
Hannah Conklin, a sophomore convergent media major from Westerville, Ohio, spent the summer as an intern at 104.9 The River. However, there were no coffee runs or mindless data entries in Conklin's summer schedule. Instead she spent the majority of her day with the station's digital and community impact department, promoting the radio station's mission to "encourage connections and share Jesus" on the social media channels.
104.9 The River is a nonprofit, Christian radio station and the third highest rated radio station in Columbus.
"I grew up listening to 104.9 The River," said Conklin. "It was constantly playing every time I was in the car growing up. When I started looking for an internship, I was considering a radio station, and The River was the first place I checked. It turned out they had an intern position available that was just the kind of opportunity I was looking for."
Some of Conklin's responsibilities included creating content and scheduling posts for TheVibeHD and oRockHD, two online streaming stations run by 104.9 The River. Running social media accounts for these two sister stations, Conklin was given the opportunity to do work that was also fun.
"It's so funny to me that things like finding funny gifs would be an actual item on my to-do list. Social media management has been a lot of fun, but it's also harder I than I thought to create and implement a long-term plan and enough quality content to match."
There were some tasks that were challenging at first to Conklin.
"My job would often be to make a pretty graphic with a quote on it. I honestly ended up with way more graphic design responsibilities than I expected. This scared me at first, but I found out how much I love it along the way."
The work Conklin was doing is very similar to the work students in the communications department, especially convergent media majors, do daily.
"I've found that the classes I've taken at Bluffton, such as Social Media, Public Relations and Graphic Design, prepared me really well for my position. I've been able to apply what I've learned, and I've gained so much knowledge and wisdom from industry professionals at 104.9 along the way."
Conklin is Bluffton University's first convergent media major after its introduction in the 2016-17 academic school year. This academic program is a way for students to learn how to produce and manage content across multiple platforms, including print, radio, websites, television, social media and other digital and interactive platforms.
After taking a class where she assisted with the campus radio station, Conklin realized she wasn't interested in being an on-air personality, but she learned that there's more that goes on behind the scenes and she wanted to know exactly what that was.
"I have definitely had my eyes opened to all the different types of people and talents a station needs to run successfully, and I've found there are plenty of positions within the radio world that I would really enjoy."
Conklin says her internship experience was enlightening and it showed her the types of things she should look for in a career as she nears graduation.
"I think I've always been a motivated student, but this experience has really motivated me as far as my future career endeavors are concerned. My internship has made me even more excited about what I'm studying, and it's confirmed to me that I'm in the right major for me. It has given me a chance to see the kinds of doors the convergent media major can open for me, and for that I am very grateful to the fantastic people at 104.9 The River."
Learn more about our convergent media program at www.bluffton.edu/com/convergent-media.aspx.
-B-
-Jena O'Brien, public relations student assistant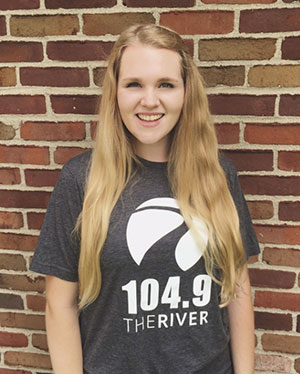 ---
"I've found that the classes I've taken at Bluffton, such as Social Media, Public Relations and Graphic Design, prepared me really well for my position. I've been able to apply what I've learned, and I've gained so much knowledge and wisdom from industry professionals at 104.9 along the way."